In 2023, the Secfense Identity Provider (IdP) has emerged as a prominent substitute for OneLogin. It presents an opportunity for organizations to enhance their existing IAM solutions or complement OneLogin service with selected features from other IAM tools. This approach enables organizations to pay only for the specific IAM functionalities they use, while also providing strong protection for all users through phishing-resistant passwordless authentication based on the FIDO2 authentication.
In the present day, organizations often find themselves managing multiple IAM services. This situation arises either due to the unique advantages offered by different IAM tools to meet specific requirements or due to being locked into a legacy system provided by a particular vendor. However, such an approach tends to result in rising costs, increased security risks, and operational complexities. Therefore, finding a solution that can combine the strengths of various IAM tools without inflating the budget, compromising security, or causing identity-related issues is crucial.
This is where Secfense IdP comes in. Serving as an excellent alternative to OneLogin, Secfense IdP empowers organizations to leverage the benefits of diverse IAM utilities. They can opt for the specific features they genuinely need and secure all users through phishing-resistant, passwordless authentication following the FIDO authentication standard.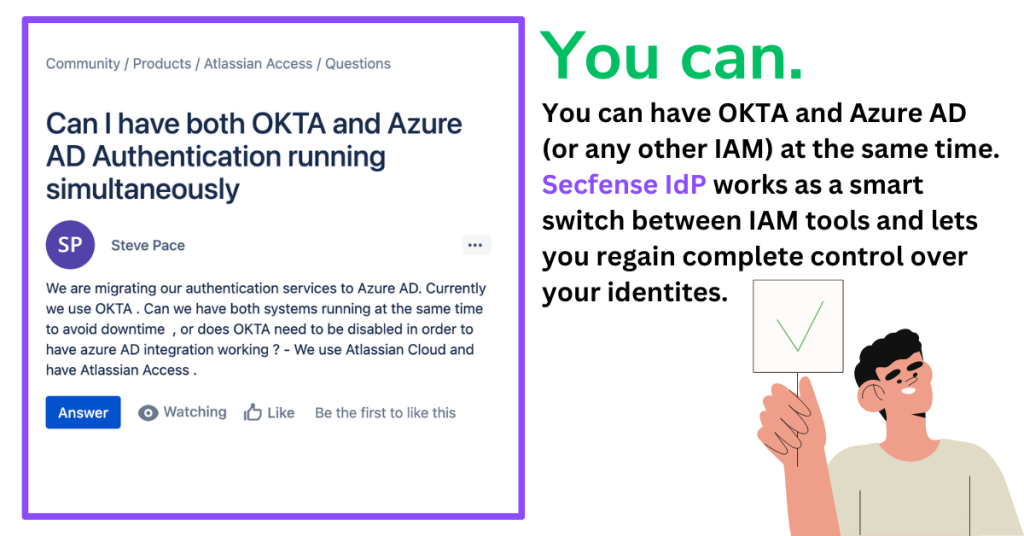 Migration between IAM tools
Reasons for IAM Solution Migration
But why would a company decide to migrate between IAM tools anyway? Companies may opt to migrate from one IAM (Identity and Access Management) solution to another, such as from Microsoft Entra ID (formerly Azure AD) to OneLogin, in pursuit of enhanced functionality, more robust security features, competitive pricing, comprehensive technical support, compliance adherence, or as part of infrastructure consolidation. The final decision hinges on individual preferences, company objectives, and specific requirements, necessitating a thorough exploration of options and careful analysis before embarking on the migration journey.
Leveraging Multiple IAM Solutions
Companies sometimes choose to concurrently utilize two IAM solutions, like OneLogin and Entra ID (formerly Azure AD), owing to specific needs and varied identity and access management demands. Each platform offers unique attributes, integrations with diverse applications and identity providers, as well as tailored support for different organizational segments. This approach enables companies to leverage the strengths of both solutions, fostering a flexible and customized identity and access management strategy. By simultaneously employing two solutions, companies can overcome limitations imposed by a single vendor and identify optimal approaches for diverse user groups and applications.
Migration and Vendor Flexibility
At times, companies decide to employ two IAM solutions, such as OneLogin and Entra ID (formerly Azure AD), concurrently for various reasons. Firstly, they might be in the process of migrating from one solution to another, temporarily relying on both to ensure uninterrupted operations. Secondly, they could face constraints associated with vendor lock-in, making a complete transition to a new solution challenging. In such cases, utilizing two platforms simultaneously grants companies increased flexibility and the ability to harness the best features of both solutions, facilitating a seamless migration process or discovering the optimal solution tailored to their specific needs.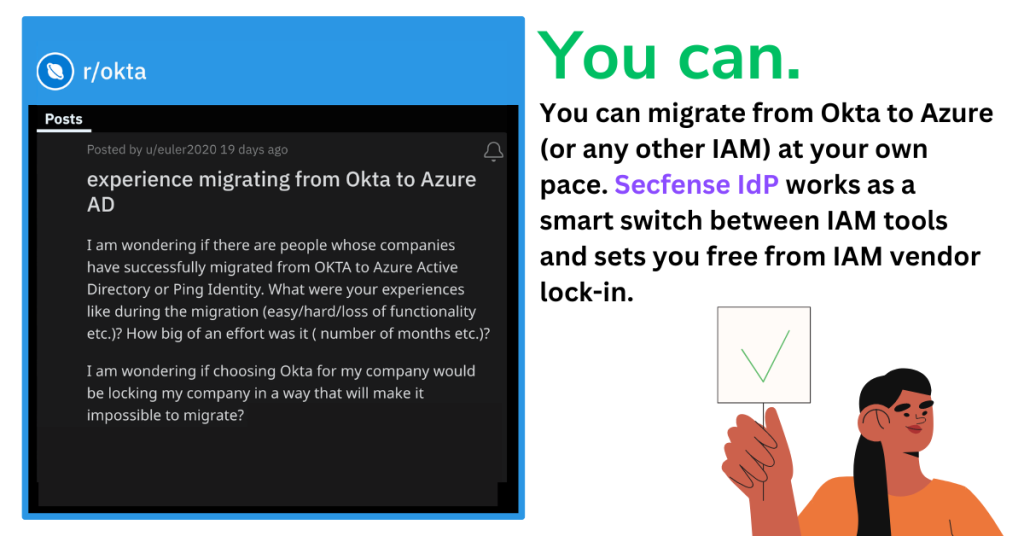 Advantages of using Secfense over OneLogin
Depending on the specific requirements of the customers, Secfense IdP can serve as an excellent substitute or a valuable complement to OneLogin. The key advantages of Secfense IdP lie in its flexibility, independence, security, and scalability.
Smart Transition
For instance, imagine a scenario where a user logs into Office 365, which keeps identities in Azure AD, but the company also employs OneLogin. Typically, all company staff using Office are authenticated via Azure AD. However, if the business wants to use OneLogin's functionalities for a group of Office 365 users, it must undertake a complete, often chaotic, and costly migration. Office 365 does not permit identity sharing between several IAM providers, compelling the company to choose between the benefits offered by Azure AD and those from OneLogin.
But with Secfense IdP, this dilemma becomes a non-issue. It empowers customers to determine which Office 365 users are authenticated in Azure AD and which in OneLogin.
Pay only for functionalities you use
With Secfense, clients only pay for the functionalities they actually use, making it a cost-effective solution. Businesses can strategically select IAM utilities for different user groups, ensuring that their choices are guided by business advantages and not restricted by vendor lock-in.
IAM vendor independence
Secfense works as a superior IdP over other IAMs, independently sourcing identities from various IAMs. This feature allows companies to avoid vendor lock-in by OneLogin or other IdPs and, instead, enables them to leverage the features of different Identity providers for various user groups, paying only for what they need.
Easy Passwordless Adoption
Secfense IdP also offers easy passwordless deployment thanks to the User Access Security Broker. Regardless of the IAM client in use, companies can eliminate passwords and replace them with secure, FIDO-based authentication.
Secfense IdP Is an Efficient, Cost-Effective OneLogin Alternative
Transitioning from Azure AD to OneLogin (or vice versa) becomes an effortless process with Secfense. As a superior IdP, Secfense independently acquires identities from different IAMs, making it an efficient and cost-effective alternative to OneLogin. With Secfense, companies maintain control over which IAM functionalities they apply to specific user groups. By moving to secure, passwordless authentication with Secfense, businesses can regain full IAM vendor independence and only pay for the features they truly need.
Schedule a Free Trial of Secfense IdP with Passwordless Authentication
Reach out to us and schedule a free trial. During this period, we'll demonstrate how, in a smooth and non-intrusive manner, we can enable you to utilize any IAM tools and their most advantageous functionalities without incurring excessive costs. We'll also show you how to implement passwordless FIDO authentication without meddling with the application code. The trial usually spans seven days, and upon completion, you'll have a clear understanding of how Secfense will function in your infrastructure post-implementation.