The cooperation between BNP Paribas Bank Polska and Secfense focuses mainly on developing a modern MFA solution. Especially during the pandemic, multi-factor authentication (also known as strong or two-factor authentication) has become one of the best ways to limit the risks of phishing and credential theft. Strong authentication ensures equally high-security levels for both users requesting access from home and at the office.
According to a recent Gartner study, companies that introduce remote work quickly and without MFA in 2021 will experience five times more account takeover incidents than those that use MFA. (Gartner, Enhance Remote Access Security with Multi-factor Authentication and Access Management, May 2020).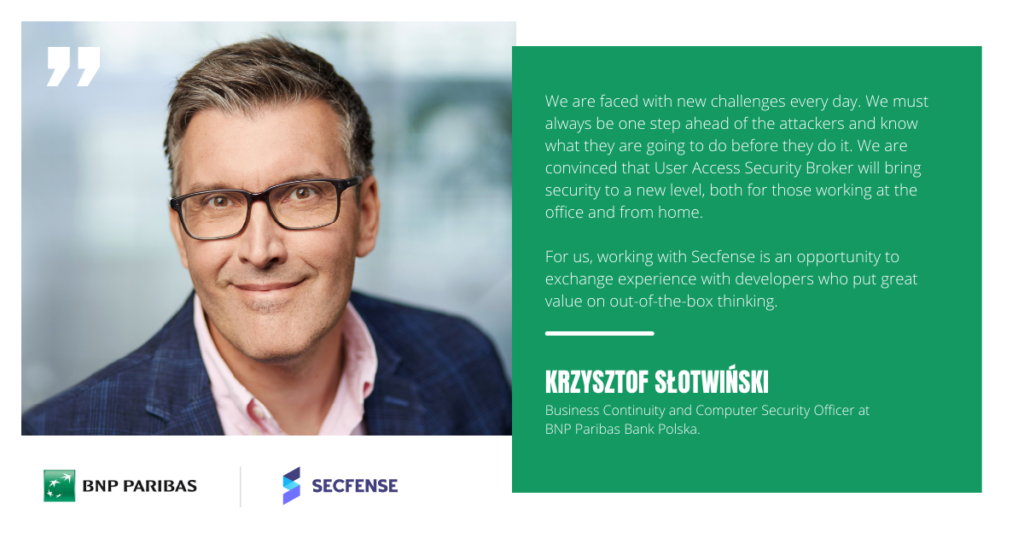 BNP Paribas Bank Polska bets on Secfense
Until recently, a large-scale MFA adoption has been a difficult undertaking since it necessitated changing the codes of existing applications. User Access Security Broker, a new technology developed by Secfense, solves this issue. Its main features are scalability and flexibility, which allow for MFA deployment on any number of applications and freedom to choose any authentication method that is best suited to the way the applications are used.
Cybersecurity experts at BNP Paribas Bank Polska appreciate User Access Security Broker developed by Secfense. Our Cybersecurity team will work together with Secfense to further improve this solution.
"We are faced with new challenges every day. We must always be one step ahead of the attackers and know what they are going to do before they do it. We are convinced that User Access Security Broker will bring security to a new level, both for those working at the office and from home. For us, working with Secfense is an opportunity to exchange experience with developers who put great value on out-of-the-box thinking."
Krzysztof Słotwiński, Business Continuity and Computer Security Officer at BNP Paribas Bank Polska.
"We are delighted by the opportunity to tap into the experience of the Cybersecurity Team at BNP Paribas Bank Polska. Their insight into real-life problems, which User Access Security Broker needs to face, is invaluable. Together, we put a lot of work to improve the quality of the product even more and provide the best cybersecurity solutions for our clients."
Tomasz Kowalski, CEO at Secfense.
Secfense paves the way to global adoption of passwordless authentication
The Secfense solution is today the fastest and easiest way to introduce passwordless authentication. It is also a tool to implement the "Zero Trust" model, an approach that ensures the security of people, devices, and applications regardless of location. To learn more about the Secfense approach to passwordless authentication adoption you can visit a dedicated landing page. To help understand what is zero trust security and see why is it so important we have also built a page that explains that.
Secfense has been operating in the cybersecurity space since 2018. It was founded by two experts, Marcin Szary and Tomasz Kowalski, who have been working in ​​cybersecurity for over twenty years with an emphasis on identity management. It is developed by a dynamic team and supported by investors and mentors such as the Bitspiration Booster VC fund. It is also a grant beneficiary under the Intelligent Development Operational Programme 2014-2020 (IDOP).
BNP Paribas Bank Polska, historically known as Bank BGŻ BNP Paribas is a universal bank listed on the Warsaw Stock Exchange. BNP Paribas Bank Polska offers individual clients savings and investment products and a vast range of loans. In turn, it provides businesses (micro-businesses, small and medium-sized enterprises, and corporations) with solutions to fund their operations on both the Polish and international markets. The Bank also offers services to food and agriculture sector organizations. It specializes in financing agriculture, the food economy, and regional infrastructure. BNP Paribas Bank Polska provides a wide offering to private banking segment clients to protect, optimize and grow their wealth. The Bank's customers may also avail themselves of investment advisory services.