Many large organizations that we talk to often find themselves grappling with the challenge of distributed identities. Various IAM solutions such as Entra ID (previously Azure AD), Okta, or OneLogin offer unique functionalities, resulting in the use of multiple IAM tools within the same organization. However, this multi-identity approach can lead to problems such as increased costs, security risks, and organizational chaos. In this article, we present the Secfense approach to easy IAM migration with the use of Secfense IdP.
IAM Migration Problem
Enterprise Architects, IAM Specialists, and Application Owners responsible for conducting an IAM migration from one IAM provider to another may encounter tons of challenges. These include complex and costly complete migrations, helpdesk overload, and the risk of compromising security during the transition.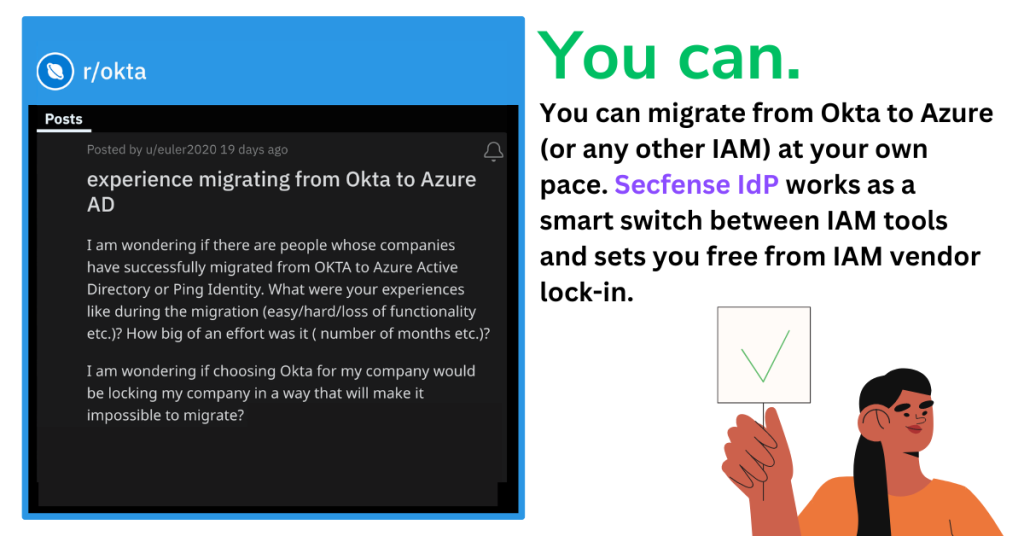 Easy IAM Migration
Secfense IdP was designed to solve the problem of managing multiple identities and easy migration between IAM solutions. Secfense IdP empowers organizations to use selected IAM functionalities from different vendors without resorting to complete migrations. The benefits of using Secfense IdP for a smooth IAM migration are as follows:
Cost-Effectiveness: Secfense IdP allows organizations to pay only for the specific IAM functionalities they require, eliminating the need for costly and extensive complete migrations.

Phishing-Resistant Passwordless Authentication: Secfense IdP offers easy adoption of passwordless authentication based on the FIDO standard, ensuring a highly secure and resilient method of user authentication. Learn more about the user access security broker approach.

Vendor Independence: With Secfense IdP, organizations can freely configure identity settings, enabling them to leverage different IAM tools without being locked into a single vendor.

Smooth Migration Process: Secfense IdP enables step-by-step migration with small user groups, ensuring a smooth and non-disruptive transition without causing organizational chaos.

Minimal Transformation Costs: Secfense IdP eliminates the need for extensive transformation costs often associated with complete IAM migrations, making it a cost-efficient solution.

Seamless Application Integration: Secfense IdP seamlessly integrates with existing applications, facilitating a smooth transition without extensive changes to application code.

User-Centric Experience: Secfense IdP prioritizes a seamless and consistent user experience, ensuring that end-users can access resources without disruptions.

Easy Implementation: Secfense IdP offers a straightforward implementation process, with contract tests lasting approximately 7 days, providing organizations with a clear picture of its behavior in their infrastructure.

No Vendor Lock-In: Secfense IdP eradicates the vendor lock-in problem, granting organizations the flexibility to choose IAM functionalities based on business benefits, not vendor restrictions.
With Secfense IdP at their disposal, Enterprise Architects, IAM Specialists, and Application Owners can simplify the IAM migration process, reduce costs, enhance security, and create a flexible and efficient IAM ecosystem for their organizations. Secfense IdP empowers them to make informed decisions regarding IAM functionalities, facilitating a smooth migration journey that aligns precisely with their unique business needs and ensuring a secure and seamless user experience throughout the transition.
Reasons for IAM migration
However, what prompts a company to undertake an IAM migration in the first place? Organizations may opt to migrate from one IAM solution to another, like moving from Microsoft Entra ID (formerly Azure AD) to Okta, for various reasons. These reasons could include seeking improved functionality, more robust security features, competitive pricing, better technical support, meeting compliance requirements, or as part of infrastructure consolidation. Ultimately, the decision to migrate hinges on individual preferences, company objectives, and specific needs, making it crucial to conduct a comprehensive evaluation of available options and conduct a proper analysis before proceeding with the migration.
Using multiple IAMs
At times, organizations opt to employ multiple IAM solutions, such as Okta and Entra ID (formerly Azure AD), either to leverage specific functionalities of each IAM platform or to prepare for a future migration. Each IAM solution boasts distinctive features and integrations with diverse applications. The utilization of different IAMs allows companies to cherry-pick the most advantageous aspects from each, resulting in a more adaptable IAM strategy. This approach enables organizations to surmount constraints imposed by a single vendor and deliver optimal solutions tailored to the needs of different user groups and applications.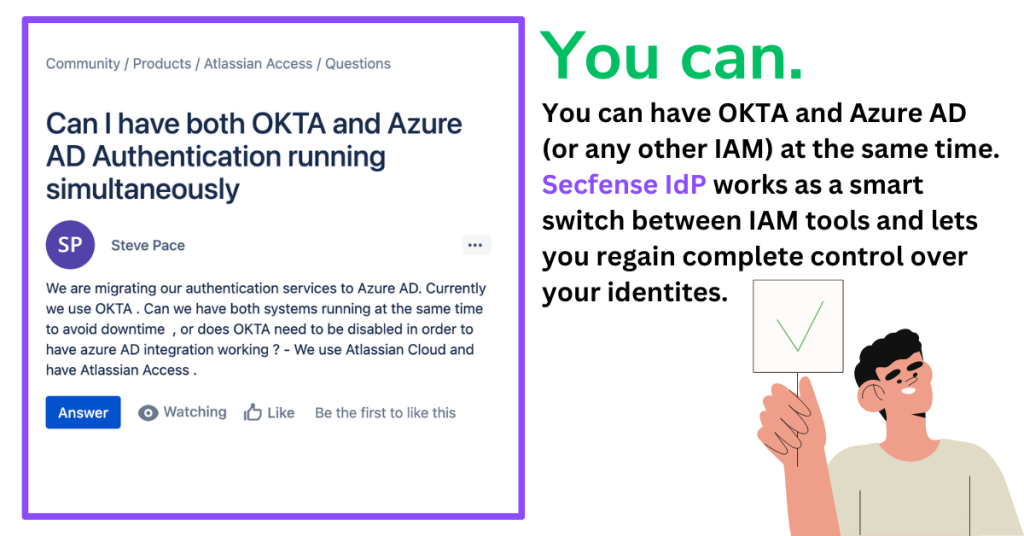 Secfense IdP Trial
Discover the exclusive advantages offered by Secfense IdP for your IAM operations. Reach out to us and arrange a complimentary trial to witness firsthand how seamlessly and non-disruptively you can harness the capabilities of any IAM tools without facing exorbitant expenses. During the trial, we will also demonstrate the implementation of passwordless FIDO authentication without the need to interfere with your application code. These trials usually span seven days, providing you with a comprehensive understanding of Secfense's performance in your infrastructure after deployment. Embrace IAM independence with Secfense today.