The competition Eagle of Innovation from Rzeczpospolita
Eagle of Innovation is an annual event organized by the Rzeczpospolita – a Polish nationwide daily economic and legal newspaper published by Gremi Media. The awards go to the most exciting and innovative companies and technologies in Poland. Secfense won the jury's recognition and was recognized in the 'the best technological solution' category.
Eagle of Innovation for Secfense
The Secfense technology awarded by the competition jury is called User Access Security Broker – a tool that facilitates the implementation of strong, multi-factor authentication (MFA) in the IT systems of large organizations. This IT solution has been appreciated by many companies, including the BNP Paribas bank or COI – an institution responsible for implementing IT projects for the public sector.
The award was received by Tomasz Kowalski, CEO, and co-founder of Secfense.
Thank you
I am very glad that I was honored to receive the award in the Eagle of Innovation competition in the best technological solution category. On behalf of the entire team, I would like to thank you for that. What do we do and what have we been awarded for?

We protect companies and their employees against the risk of password loss and theft, and thus against intruders breaking into the internal network, which, as we know, happens more and more often in banks, companies and state institutions.

Our technology – User Accees Security Broker – ensures that the person sitting on the other side of the computer is exactly who he or she says he is. As a result, common and harmful phishing attacks can be completely ineffective.

The Eagle of Innovation award is important to us for two reasons:

First, it appreciates our work and contribution to cybersecurity.

Secondly, it proves that companies are becoming more aware of cybersecurity, which is important not selectively but without compromise.

Thank you once again.

Tomasz Kowalski, CEO and co-founder of Secfense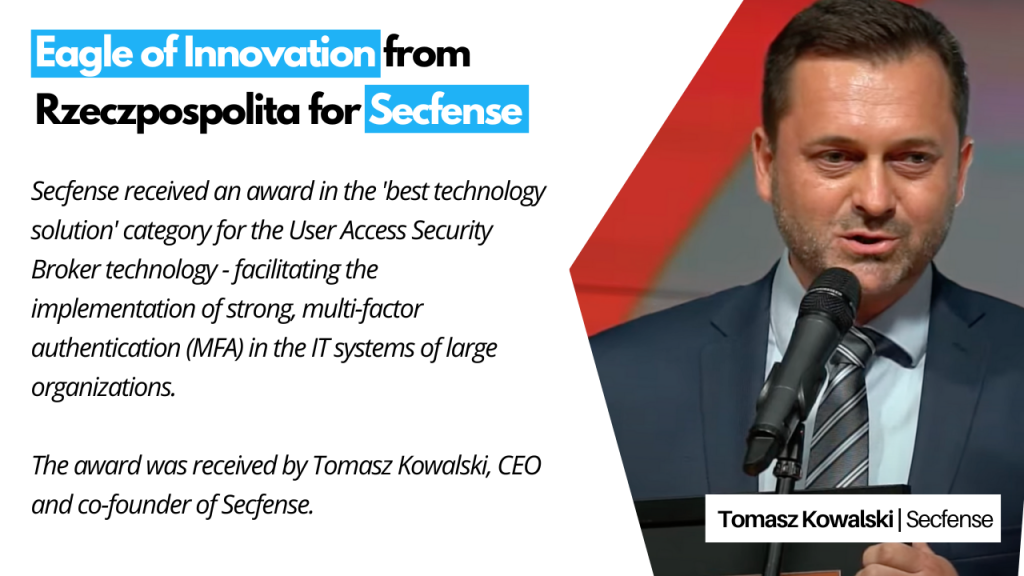 If you want to know more, please visit the following websites: