Secfense at 'IT Architects Forum'
Secfense is a proud sponsor of XII Forum Architektów IT (eng. IT Architects Forum) in Warsaw on December 1, an event organized by Computer World.
We are pleased to announce that Secfense is a proud sponsor of the 'IT Architects Forum' that will take place in Warsaw on December 1. The Computerworld event will bring together enterprise information architecture (EIA) experts to discuss data security challenges and opportunities. Since data security plays a big role in building an organization's IT architecture, we decided to be part of this important event. We look forward to sharing our expertise on authentication security with attendees and helping them find the best ways to protect their data using multi-factor authentication and zero-trust security principles.
IT architecture principles and trends
The event will bring together top IT professionals from all over Poland to discuss the latest trends and developments in the field. The upcoming IT conference in Warsaw will provide a perfect opportunity for networking and knowledge sharing between some of the top professionals in the field. Attendees can expect to gain insights into the latest trends and developments, as well as get practical guidance on implementing new technologies. In addition, case studies from successful projects will be presented, along with a discussion of the challanges faced by IT teams today. Secfense will be presenting User Access Security Broker, a technology appreciated by enterprise architects from companies like the bank BNP Paribas Poland, among others.
The IT Architects Forum is a great place for exchanging ideas and networking with some of the best and brightest minds in enterprise technology. As the role of data security in enterprise architecture continues to evolve, it is important for security professionals to stay up-to-date on the latest trends and developments. The IT Architects Forum provides an excellent opportunity to network with many enterprise IT experts and learn about the latest innovations in the field. During the Secfense presentation, the event attendeescan expect to hear more about the user access security broker approach to two-factor authentication deployment, about FIDO2 (the only phishing-resistant authentication method), and the importance of the unification of security policies. We are sure that the sessions and discussions at this year's forum will be very beneficial and help attendees better understand the role of data security in enterprise architecture.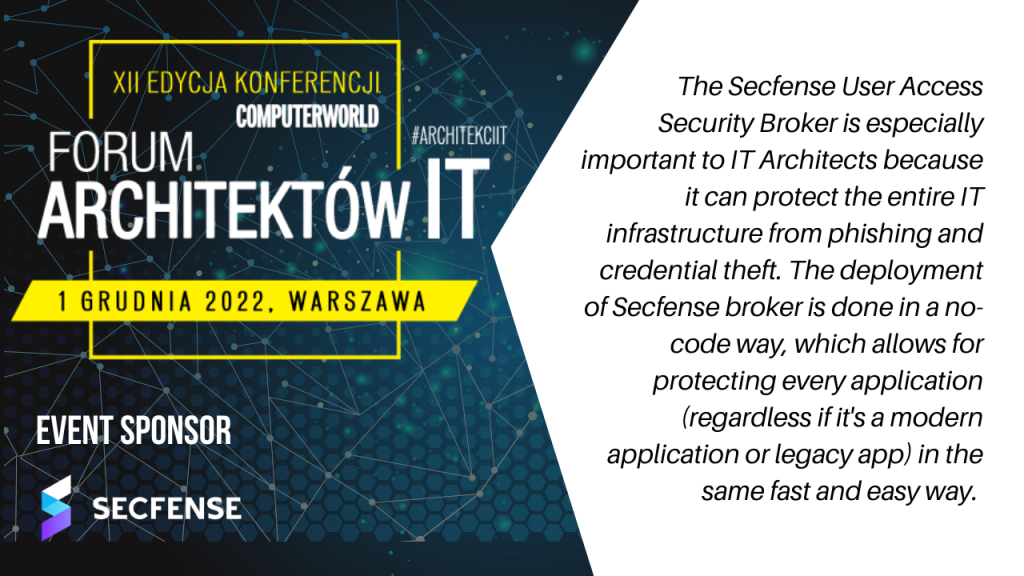 User Access Security Broker and Enterprise Architecture
The Secfense User Access Security Broker is especially important to IT Architects because it can protect the entire IT infrastructure from phishing and credential theft. The deployment of Secfense broker is done in a no-code way, which allows for protecting every application (regardless if it's a modern application or legacy app) in the same fast and easy way. We encourage you to check out the Secfense broker demo to see how this product can benefit your organization. You can visit our company profile on the events site and learn more about our offering.
Let's meet
December 1st is just around the corner, and that means it's time for our get-together in Warsaw! This is a great opportunity to get in touch with fellow IT architects, see the demo of our user access security broker, and talk to our consultant about your business needs. We'll also be scheduling some free testing for those who are interested. So if you're in Warsaw on December 1, be sure to stop by and say hello! We hope to see you there!