Pricing Tiers Problem
Very often, important security features that a company needs are only offered in the most expensive plans. So, the company pays a lot of money for many features they don't use just to get the one they need. This is often the case with big companies like Microsoft or services like Okta, Ping Identity, and One Login.
Secfense is changing this. With Secfense IdP, you can get some of the crucial security features without having to pay for a bunch of functionalities you don't need.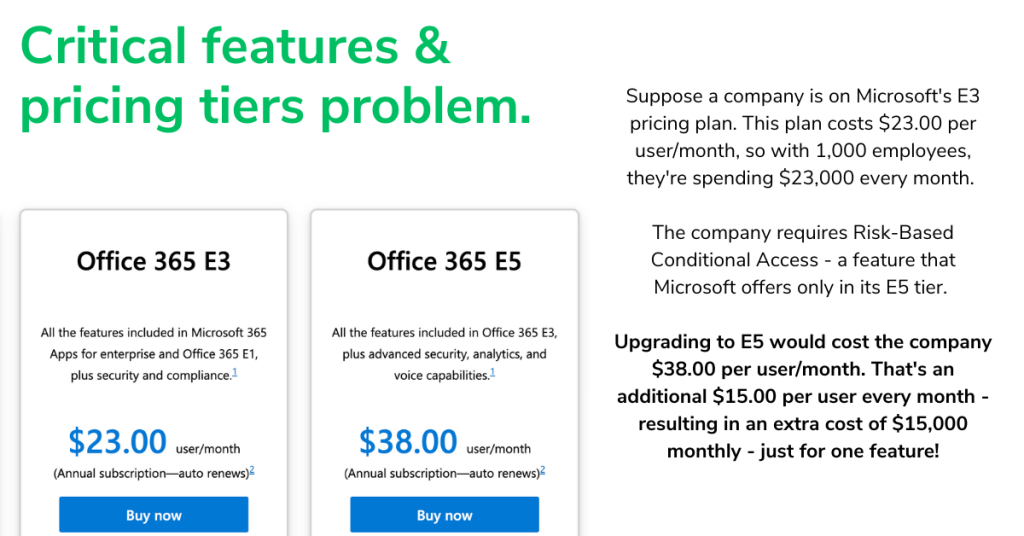 What is E1 E3 E5 in Office 365?
Microsoft 365 ( previously Office 365) has different plans for businesses which, at the time of writing this article, include plans like E1, E3, and E5. The E1 plan is the most basic and includes email, file storage, and online Word, Excel, and PowerPoint versions. The E3 plan includes everything from E1, lets you install Word, Excel, PowerPoint, and others on your computer, and gives you extra tools for safety and business reports. The E5 plan has all of E3's features, safety tools, voice features, and advanced business reports.
It's a frequent scenario that large organizations find themselves compelled to pay a substantial amount for a relatively minor upgrade to access a handful of premium features.
Risk-Based Conditional Access in Microsoft 365
Risk-Based Conditional Access, or Identity Protection, is like a digital security guard for Microsoft's online services. It watches for risky behavior, like logging in from a strange place or trying to log in many times without success. Depending on how risky the behavior is, it might ask the user to prove who they are with extra steps, like entering a code sent to their phone, or it might block access completely. It can also alert the system administrators about any suspicious activities.
Suppose a company is on Microsoft's E3 pricing plan. At the time of writing this article, this plan costs $23.00 per user/month, and if they have a workforce of 1,000, they're spending $23,000 every month. Now, imagine that the company requires the Risk-Based Conditional Access feature – a critical feature that Microsoft offers only in its E5 tier. Upgrading to E5 would cost the company $38.00 per user/month. That's an additional $15.00 per user every month – resulting in an extra cost of $15,000 monthly – just for one key feature!
Unlocking Key Security Features with Secfense IdP
Secfense IdP solves this problem. Secfense IdP is made to give you access to top-level security features like Conditional Access without having to buy a whole bunch of things you don't need.
Saving $15,000 a month for only one feature. With Secfense IdP, you can get important security features without spending a lot—making it a simpler, cheaper solution for your business.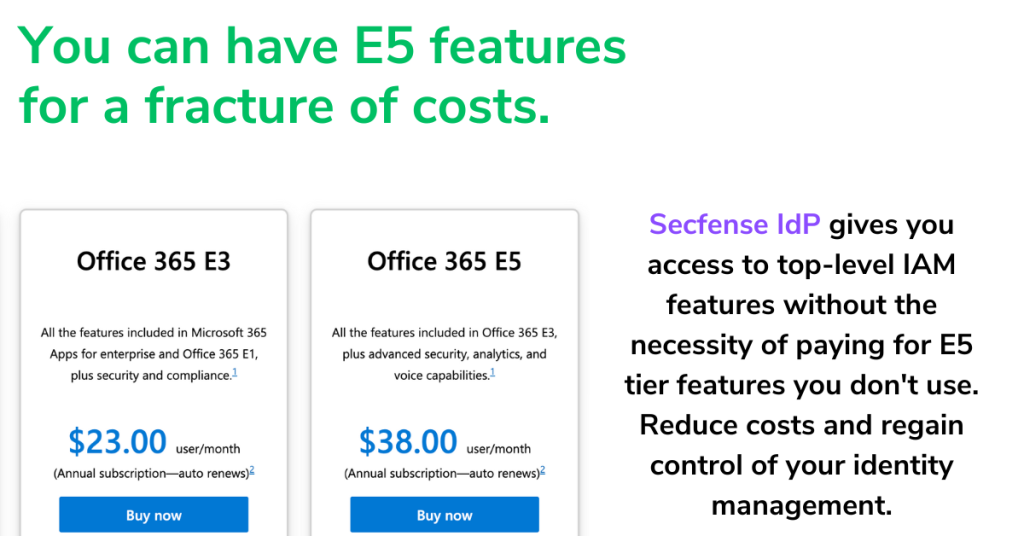 Access Critical IAM Functionalities with Secfense
Secfense IdP is revolutionizing the landscape of IAM services. It offers the promise of tailored security solutions that meet businesses' needs without forcing them to bear the burden of costly, unused features. You no longer need to pay huge sums for things you don't need. If your organization requires Conditional Access or any other top-tier IAM features, get in touch with us. We're committed to delivering what you need when you need it—helping you enhance your security posture while also keeping an eye on the bottom line. Schedule a discovery call with us and let's go through a list of features that you currently pay a lot for, and let's see how much money you can save with Secfense IdP.