From FIDO to Passwordless Security
Traditional username and password combinations no longer provide adequate protection against cyber threats. As organizations seek more secure and convenient authentication methods, FIDO2 authentication has emerged as a leading solution. This article delves into the workings of FIDO2 authentication and its key features and highlights its advantages over other multi-factor authentication (MFA) methods. We will explore the implementation of FIDO2 authentication with Secfense and discuss why organizations are gravitating towards FIDO2 for a passwordless future.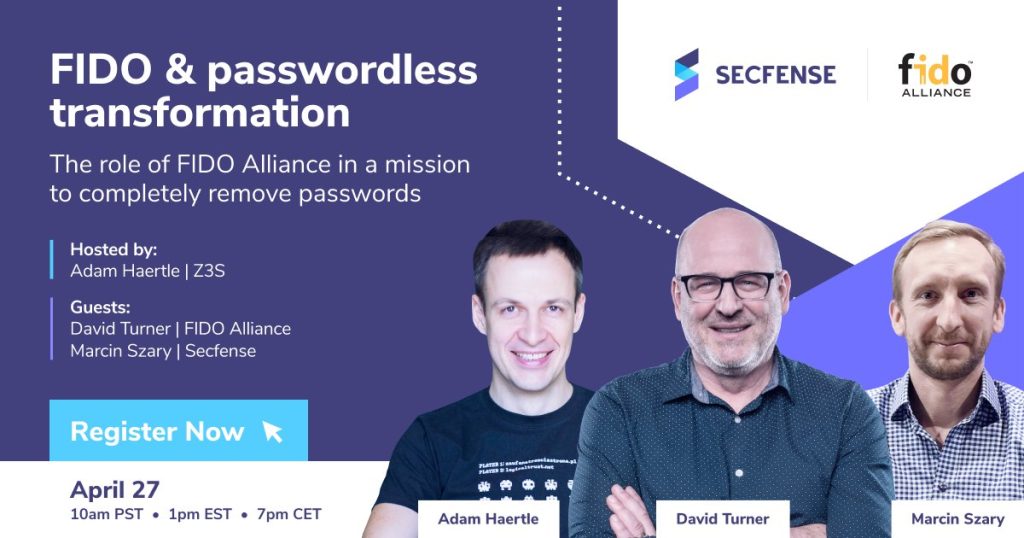 Understanding FIDO2 Authentication
FIDO2 authentication, in very simple words, is a special key that only your computer knows about. When you want to use a website or app, your computer uses that key instead of typing a password to make a secret code. The website or app then checks the secret code and lets you in. This way, you don't have to remember and type long passwords, making it safer and easier to use the internet.
FIDO2 authentication, based on the FIDO Alliance's specifications, revolutionizes how users access online services. It leverages public-key cryptography to establish a secure and user-friendly authentication system. At its core, FIDO2 authentication involves using a FIDO2 security key, a physical device, or a FIDO2 token that securely stores the private key. This key is paired with a public key that is registered with FIDO2-supported services, enabling secure and convenient logins without relying on traditional passwords.
FIDO! authentication basically replaces traditional passwords with more secure methods. During registration, your FIDO device creates a unique key pair. When you want to log in, your device uses the private key to create a digital signature, which is verified by the website or app using the stored public key, granting you access without the need for passwords.
FIDO vs. FIDO2
You've probably noticed that since we're talking about FIDO2, there should be FIDO1 as well. Or is it just FIDO? And how do all those FIDOs relate?
FIDO (Fast Identity Online) and FIDO2 are related but distinct concepts. FIDO is an open industry association that aims to develop open authentication standards to reduce the reliance on passwords. FIDO introduced the Universal Second Factor (U2F) protocol, which enables two-factor authentication using USB or NFC devices. FIDO2, on the other hand, is an evolution of FIDO that combines the U2F protocol with the Web Authentication (WebAuthn) standard. FIDO2 expands the capabilities of FIDO by allowing passwordless authentication using biometrics, such as fingerprints or facial recognition, or other external authenticators. In summary, FIDO is the organization behind the standards, while FIDO2 is the specific set of protocols and standards that enhance authentication methods.
FIDO2 Key
The FIDO2 key is the gateway to passwordless authentication. It is a fundamental component of FIDO2 authentication. It can be a hardware device like a FIDO2 security key. It can also be embedded in supported devices like smartphones, tablets, or laptops. Popular examples of FIDO2 devices include the FIDO2 YubiKey (a most popular security key from our partner Yubico), a versatile hardware key that offers strong authentication capabilities. These FIDO2 keys generate and store the private key securely, ensuring that the authentication process remains robust and tamper-resistant.
FIDO2 Authentication vs. Other MFA Methods
Let's put it in simpler words first. Imagine you have a secret club that only you and your trusted friends can enter. You use special passwords or secret codes to ensure that only the right people get in. But sometimes, bad actors can figure out those passwords or codes and try to get into your club.
So how does that relate to FIDO2? FIDO2 is like having a smart robot as a guard for your club. This robot doesn't just rely on passwords or secret codes. Instead, it looks at something unique about you, like your face or your fingerprint, to make sure it's really you trying to enter.
FIDO2 is better than other ways of checking because it's way more secure. Methods like SMS, TOTP (Time-based One-Time Password), or push authentication can sometimes be tricked by bad actors. They might try to intercept the secret code that gets sent to your phone or pretend to be someone else using special apps. But with FIDO2, the robot friend can instantly recognize your face or fingerprint, so it knows it's really you and not an imposter.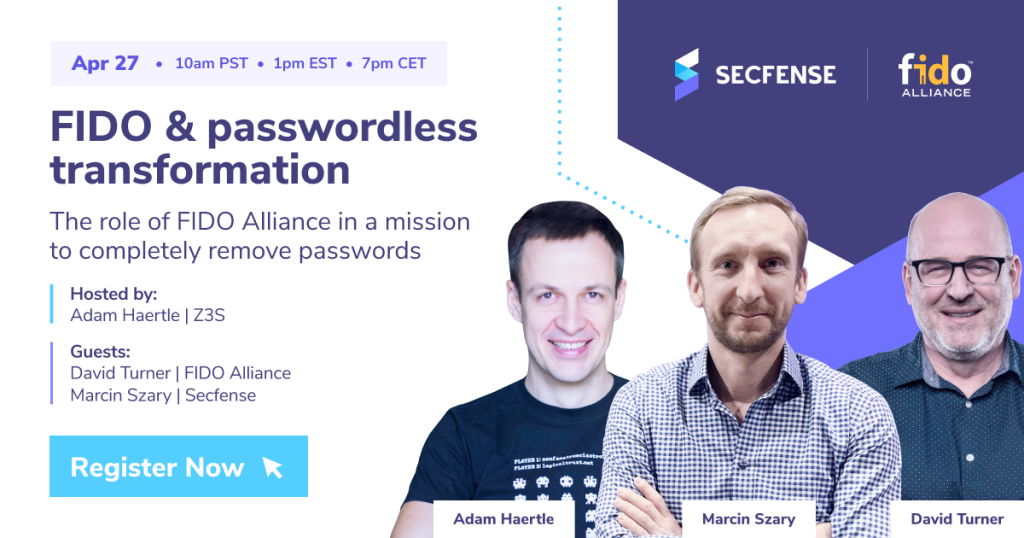 Another great thing about FIDO2 is that it's much easier for you to use. You don't have to remember lots of different passwords or secret codes. Instead, you need to show your face to the robot or let it scan your fingerprint, and it will know it's really you. This makes accessing your club or any other places that use FIDO2 quicker and more convenient.
So, in a nutshell, FIDO2 is like having a super smart robot guard for your secret club. It uses your face or fingerprint to make sure it's really you, and it's harder for bad actors to trick. Plus, it's easier and more convenient for you to use. The robot we use in our story is embedded in the device you own and carry with you all the time (like a smartphone, laptop, or physical security key).
FIDO2 offers enhanced security, a streamlined user experience, and greater protection against common threats like phishing and man-in-the-middle attacks. By eliminating the reliance on passwords and leveraging the FIDO2 security key, users can enjoy a passwordless experience that minimizes the risk of credential theft and improves overall security posture.
Implementing FIDO2 Authentication with Secfense
There are many ways to introduce FIDO2 in organizations. Secfense offers one of the simplest ones because the Secfense approach does not involve software integration and can be done without touching protected applications' code. User Access Security Broker simplifies the implementation of FIDO2 authentication. Secfense solution acts as an intermediary security layer, enabling organizations to introduce FIDO2 authentication and other user access policies seamlessly. This way, organizations can quickly integrate FIDO2 authentication into their web applications without the need for extensive coding or reliance on specific vendors. This flexibility ensures a smooth and scalable implementation process, making passwordless authentication in an enterprise environment a reality.
The Shift to FIDO2
But why are organizations embracing passwordless security? Organizations are increasingly adopting FIDO2 authentication due to its compelling advantages. The use of FIDO2 devices enhances security by reducing the attack surface for cybercriminals and eliminating the vulnerabilities associated with traditional passwords. FIDO2 authentication also offers a more streamlined user experience, eliminating the need for multiple passwords and providing a seamless authentication process.
The rise of FIDO2 devices, such as one of our technology partners Nitrokey, has further accelerated the adoption of FIDO2 authentication. These devices offer robust security, support for various authentication methods, and compatibility with a wide range of FIDO2-supported services. Organizations recognize the significance of FIDO2 in meeting regulatory requirements, such as the adoption of FIDO WebAuthn standards. They are prioritizing the transition towards passwordless authentication to bolster their security posture and improve user satisfaction.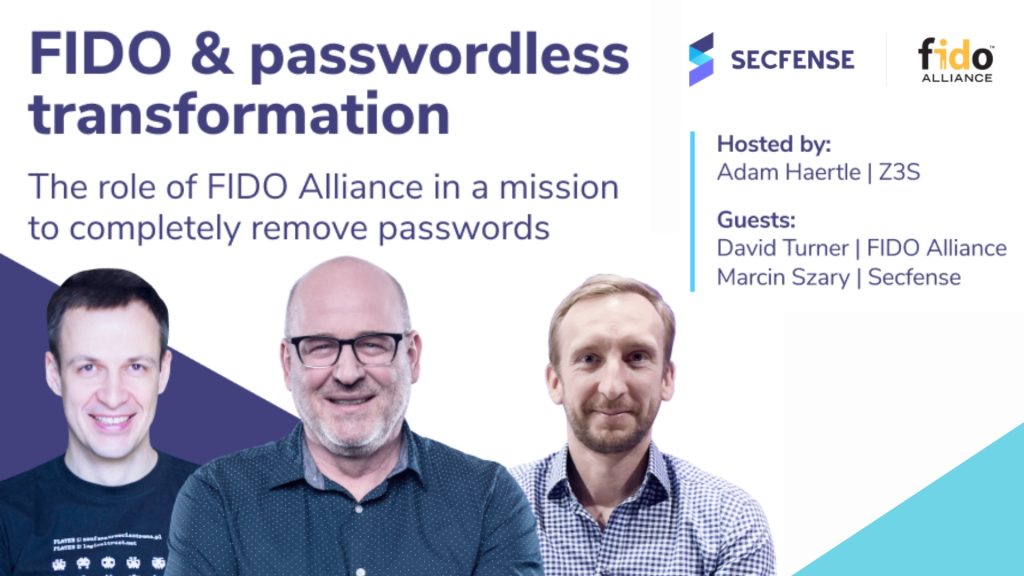 Conclusion: FIDO & passwordless transformation webinar
FIDO2 authentication represents a transformative leap toward passwordless security. By leveraging the power of FIDO2 keys, organizations can enhance security, simplify the user experience, and stay ahead of evolving cyber threats. Implementing FIDO2 authentication with solutions like Secfense's User Access Security Broker streamlines the adoption process, ensuring scalability and flexibility. As more organizations realize the advantages of FIDO2 authentication and the benefits it brings, the journey towards a passwordless future powered by WebAuthn and FIDO2 continues to gather momentum.
If you need more information about FIDO passwordless, visit the FIDO & passwordless transformation webinar. We have organized this 60-minute webinar to give you enough knowledge to start introducing FIDO in your organization. David Turner, Director of Standards Development at FIDO Alliance, and Marcin Szary, CTO & co-founder of Secfense, two authentication security practitioners, met to discuss and respond to industry-burning questions about the future of authentication and identity online.
This webinar will help you:
Understand how FIDO authentication works
Avoid FIDO implementation challanges
Start the transformation into a full passwordless