EU Legal Framework for Strong Authentication in Cyber Security.
In recent years, the European Union has adopted cybersecurity regulations to strengthen data protection and safeguards in the digital world. One of the critical pieces of legislation in this regard is the GDPR (General Data Protection Regulation), which, while focusing mainly on data privacy, includes provisions on the security of information processing. However, it is the DORA (Digital Operational Resilience Act) Regulation and the NIS 2 (Network and Information Security Directive) that point more directly to the need to implement strong authentication mechanisms, such as multi-factor authentication (MFA). These regulations emphasize that financial institutions and providers of key digital services must employ advanced protection measures to ensure data integrity and confidentiality. This raises the question: Are traditional MFA methods such as TOTP or SMS strong enough, or are modern solutions such as Passkeys, offered by the FIDO Alliance, a better alternative in light of these requirements?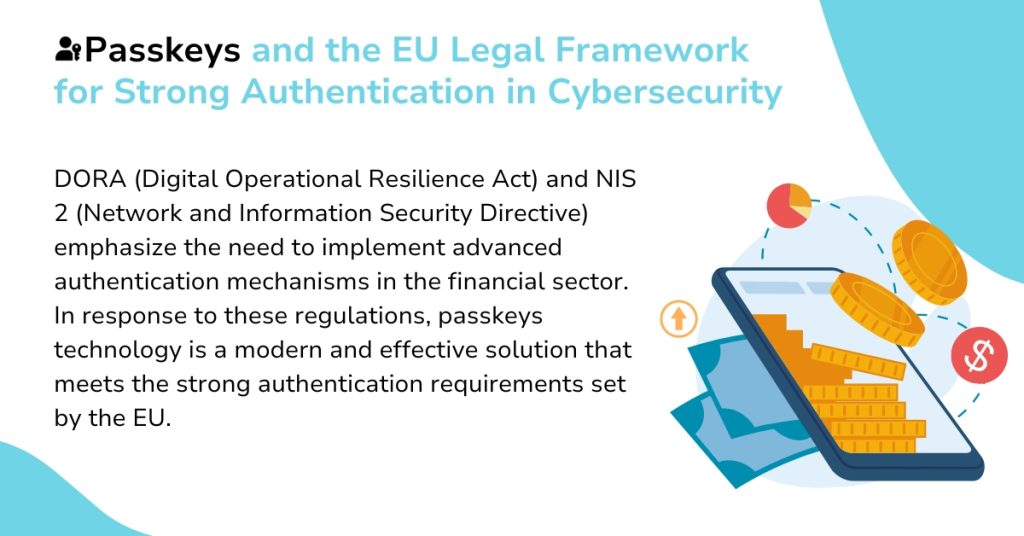 Strong Authentication and FIDO Initiatives in the Context of the EU Guidelines.
Strong authentication, often referred to as Multi-Factor Authentication (MFA) or Two-Factor Authentication (2FA), refers to the process of verifying a user's identity through a combination of two or more independent components: something the user knows (e.g., a password), something the user has (e.g., a token or smartphone) and something the user is (e.g., biometrics like a fingerprint or facial recognition). Unlike traditional password-only authentication methods, MFA and 2FA provide a much higher level of security, minimizing the risk of unauthorized access to systems and data.
The FIDO Alliance, or Fast IDentity Online Alliance, is an industry consortium that seeks to create open authentication standards to increase online security and reduce reliance on passwords. FIDO authentication is based on local user verification, which means that sensitive credentials never leave the user's device, making it immune to phishing or data interception attacks.
The European Union is emphasizing strong authentication for several reasons. First, the number of cyber security incidents, including data breaches and phishing attacks, is growing at an alarming rate, posing a serious threat to citizens' privacy and the region's economic stability. Second, as digital transformation continues, security is becoming a key element in building trust in digital services and technologies. By promoting strong authentication, the EU aims to create a more secure and trusted digital environment for all its citizens and businesses.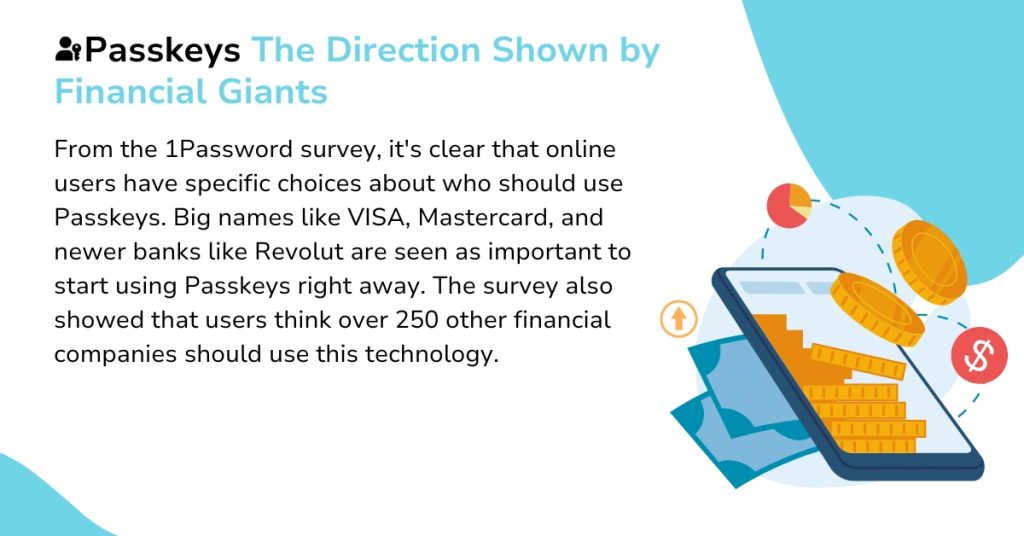 Passkeys: A Revolution in the Direction of True Passwordless
Passkeys, as highlighted by the FIDO Alliance, represent a breakthrough in authentication, moving us from traditional password-based systems toward a complete passwordless solution. Unlike traditional passwords, which rely on what the user knows, passkeys rely on local authentication, where user verification occurs on the device. This approach brings us closer to the real world without passwords, eliminating the need for expensive physical security keys while offering an equally high level of protection.
Technology giants such as Apple, Microsoft, and Google have already begun introducing passkeys technology, a testament to its potential and future in the digital world. As more and more companies and organizations adopt passkeys, we are witnessing not so much a violent revolution but rather a subtle evolution in how we approach authentication. Analogous to the evolution of the wallet we once carried in our pockets and now store digitally on our smartphones, passkeys are transforming our approach to security. In the not-too-distant future, we will realize that we no longer use traditional passwords. Instead, all of our access keys, cryptographically secured, will be stored on our devices thanks to passkeys technology, providing us with ease of access and unparalleled security.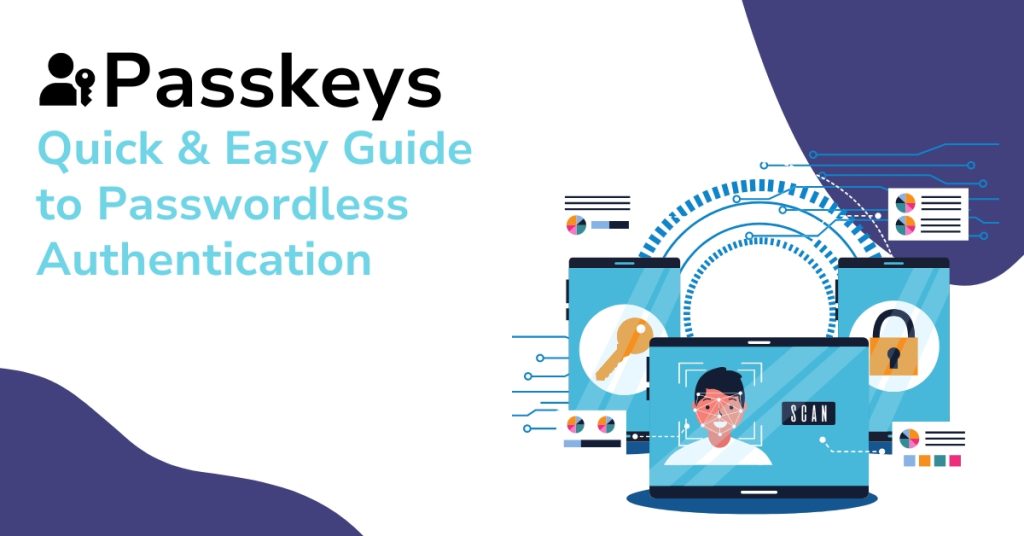 Adoption of Passkeys: Direction Pointed by Financial Giants
Since Passkeys' technology was introduced to the market, its adoption has proceeded at a fast pace, especially in the financial sector. Institutions such as Robinhood, Money Forward ID, Binance, and Boursorama have already successfully implemented passkeys, highlighting their advanced approach to security and innovation.
Moreover, in light of a recent survey conducted by 1Password, it has become clear that the Internet community has specific expectations about which companies should next adopt Passkeys technology. Payment giants such as VISA and Mastercard and modern banking platforms like Revolut have been identified as those that users say should implement passkeys as soon as possible. In addition, the list included more than 250 other financial companies that Internet users considered key in the context of the technology.
Such a trend indicates one thing: Passkeys are no longer just a technological novelty but are becoming a standard that customers expect. As more and more financial institutions see the benefits of passkeys, we can expect this technology to become an integral part of the future of digital banking.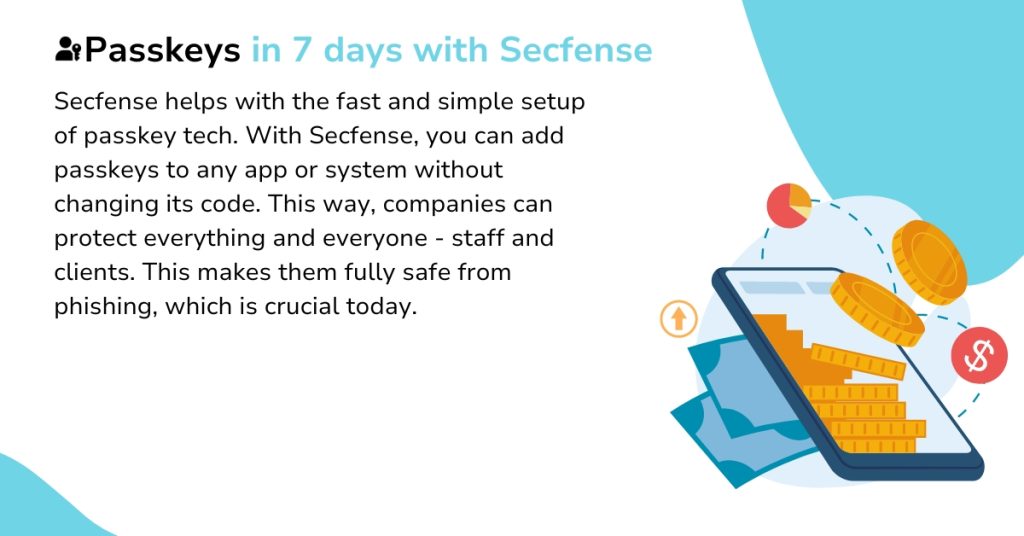 Holistic Protection with Passkeys: The Key to Comprehensive Adoption
Today's banking customer uses multiple channels of communication and interaction with the financial institution – from an online account to mobile apps to talking to a consultant or visiting a branch. That's why it's crucial that authentication technology like passkeys be consistently deployed at all these points of contact. As a result, customers experience consistency, security, and convenience at every stage of their interaction with the bank.
Secfense specializes in the easy and fast adoption of passkeys technology. Its unique approach allows the implementation of this technology in any application or system without interfering with the code. This allows organizations to secure their entire infrastructure and by extension, all users – both employees and customers. The result is total immunity from phishing attacks, which is invaluable nowadays.
Adopting passkeys from Secfense is not only express but also intuitive. It enables codeless implementation for the organization and easy and intuitive adoption by the end user. If you want to convince yourself of the effectiveness of this technology, we invite you to participate in "Proof of Value" tests. Under this program, you will receive complete MFA protection for one of your applications, all users will use the MFA of your choice, and you will gain an additional layer of protection in the form of micro-authorization, full site protection (VPN functionality without the need to purchase a VPN) and a passwordless transformation checklist.