Secfense raises $2 million
Secfense raises $2 million in its latest investment round. Among investors, VC funds from Estonia, the Czech Republic, Poland as well as individual investors. Tera Ventures, Presto Ventures, RKKVC and business angels bet on Secfense and their User Access Security Broker to help organizations in transition into a passwordless future!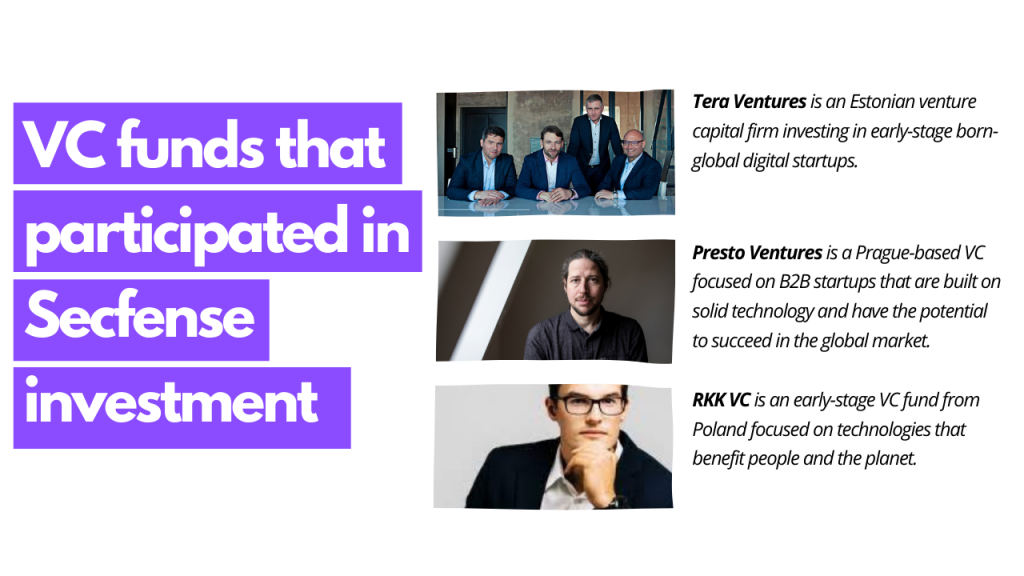 VC funds that have invested in Secfense
The following venture capital funds decided to invest in Secfense in the latest investment round:
Tera Ventures is an Estonian venture capital firm that invests in early-stage start-ups.
Presto Ventures is a VC from the Czech Republic focusing on B2B startups, based on solid technology and with the potential to be successful in the global market.
RKK VC is a fund from Poland. RKK VC invests in startups creating technologies that benefit people and the planet.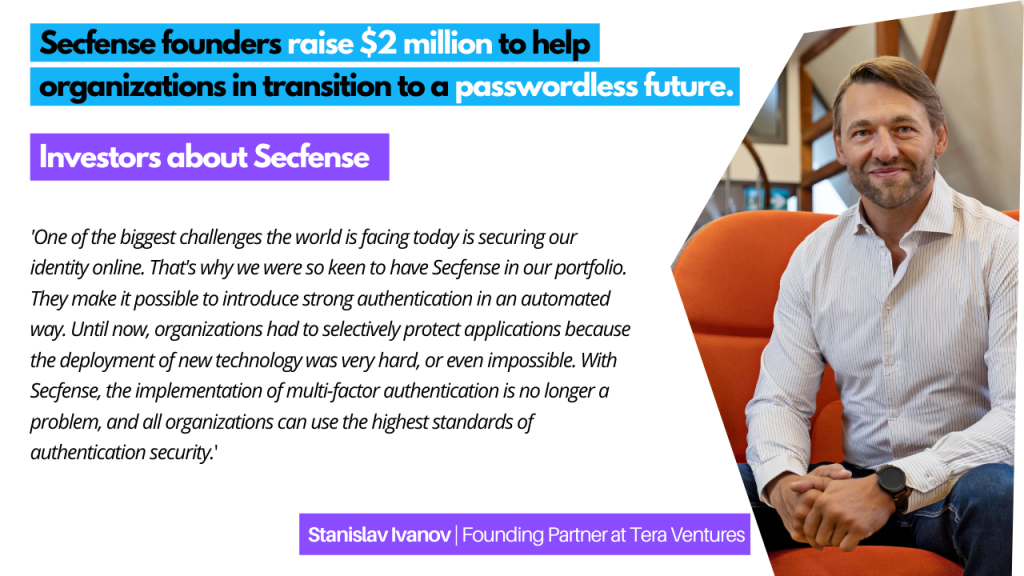 Business angels who have invested in Secfense
Apart from VC funds, business angels also joined the investment round.
Mark Schuster, Sales Director at UiPath, B2B SaaS Business Angel and Sales & Partnership Advisor.
Elżbieta Kozera, COO at Cypherdog Security Inc. plays a major role in the expansion of Polish companies in the United States.
Bartosz Dobrzyński, a business angel and former board member of P4 (owner of the Play mobile network operator).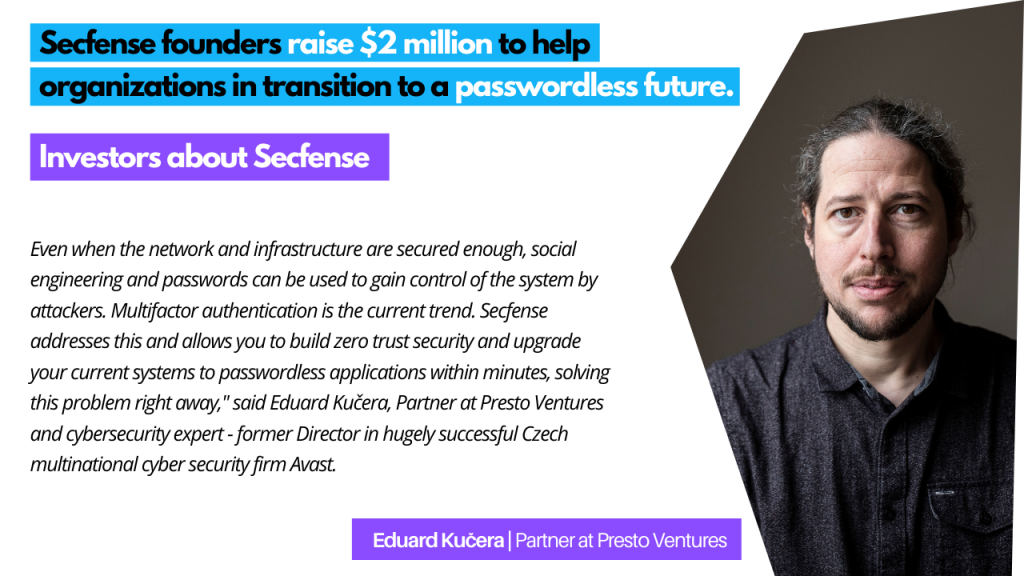 Secfense's story
Secfense was founded in 2018 by two experts – Marcin Szary and Tomasz Kowalski, who for over twenty years have been focusing on the area of cybersecurity with an emphasis on identity management. The company is co-created by a dynamic team and supported by investors and mentors in the field of new technologies.
Tomasz Kowalski, co-founder and CEO of Secfense
Has nearly 20 years of experience in sales of IT technologies. Tomasz has participated in hundreds of hardware and software implementations in large and medium-sized companies from the financial, telecommunication, manufacturing, and military sectors.
Marcin Szary, co-founder and CTO Secfense
Previously, a CTO in many startups in the mobile and telecommunications, and cybersecurity industries. Marcin was responsible for R&D activities in the field of multi-factor authentication, mobile payments, notification services in GSM networks, and others. As a contractor, he has carried out many projects related to virtualization, storage architecture, and data security for corporate clients from the telecommunications, banking, and public sectors.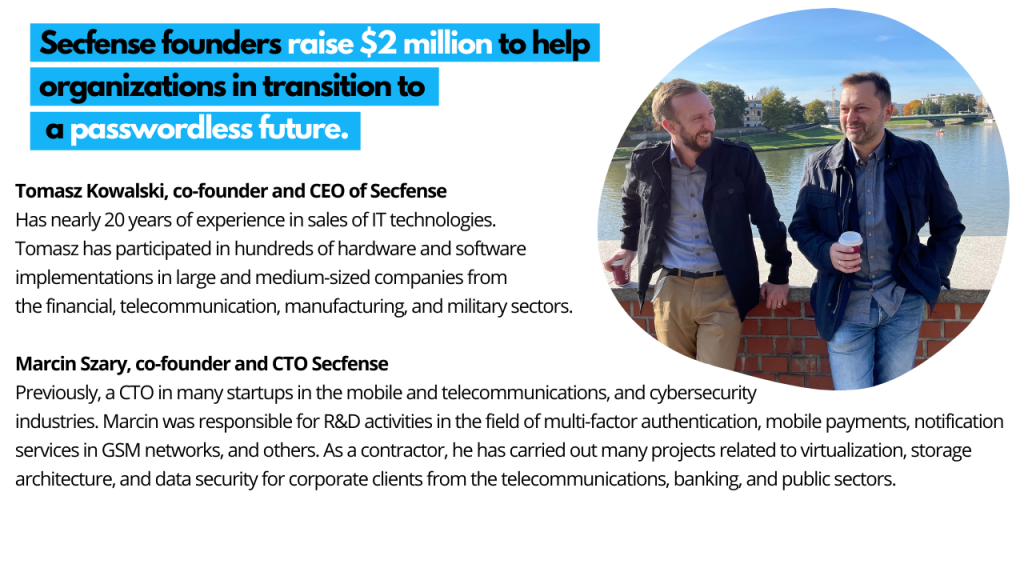 VC partners and angels who have invested in Secfense
'One of the biggest challenges the world is facing today is securing our identity online. That's why we were so keen to have Secfense in our portfolio. They make it possible to introduce strong authentication in an automated way. Until now, organizations had to selectively protect applications because the deployment of new technology was very hard, or even impossible. With Secfense, the implementation of multi-factor authentication is no longer a problem, and all organizations can use the highest standards of authentication security.'

Stanislav Ivanov, partner and co-founder at Tera Ventures
Even when the network and infrastructure are secured enough, social engineering and passwords can be used to gain control of the system by attackers. Multifactor authentication is the current trend. Secfense addresses this and allows you to build zero trust security and upgrade your current systems to passwordless applications within minutes, solving this problem right away," said Eduard Kučera, Partner at Presto Ventures and cybersecurity expert – former Director in hugely successful Czech multinational cyber security firm Avast.

Eduard Kučera, Partner at Presto Ventures and former director of Avast
Before investing in Secfense, we had the opportunity to talk to its existing clients. Their reactions were unanimous: wow, it's so easy to use. We were particularly impressed by the fact that implementing their solution does not require the involvement of IT developers. It gives Secfense a huge advantage over the competition, and at the same time opens the door to potential customers who so far were afraid of changes related to the implementation of multi-factor authentication solutions.

Mateusz Bodio, managing director at RKKVC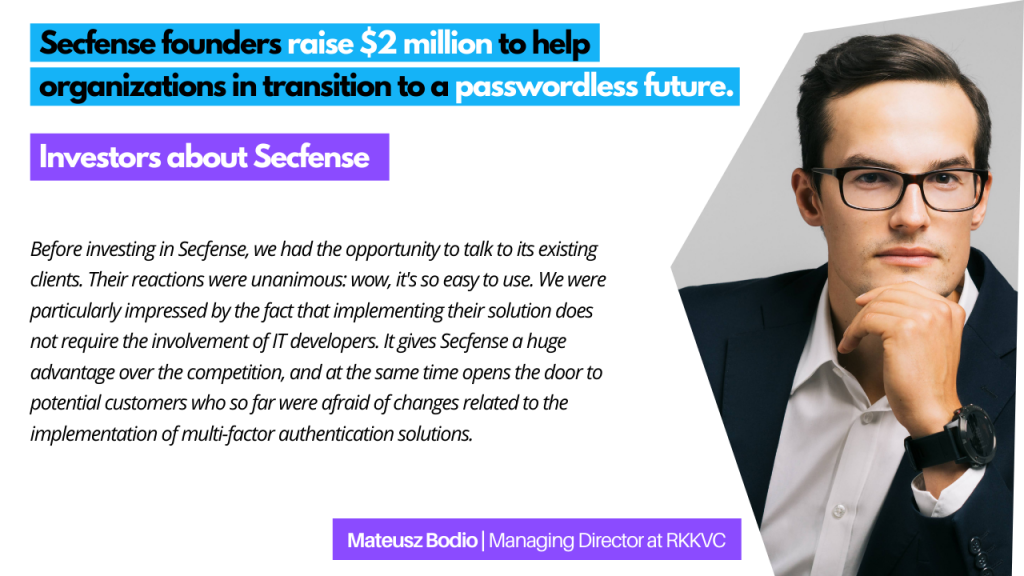 Clients about Secfense
The value that Secfense User Access Security Broker brings to the organization has been appreciated by cybersecurity experts from BNP Paribas Polska. Secfense's clients also include Findia companies that specialize in insurance and services in the area of technology, cyber protection and legal protection, PKP Intercity, one of the largest transport companies in Poland, as well as an organization responsible for the digitization of the government sector in Poland.
We are faced with new challenges every day. We must always be one step ahead of the attackers and know what they are going to do before they do it. We are convinced that the User Access Security Broker will bring security to a new level, both for those working at the office and from home. For us, working with Secfense is an opportunity to exchange experience with developers who put great value on out-of-the-box thinking.

Krzysztof Slotwinski, Business Comtinuity and Computer Security Officer at BNP Paribas Bank Polska