Secfense Identity Provider (IdP) emerged to be a leading alternative to Ping Identity in 2023. It can also be a great addition to Ping Identity and other IAM solutions in an organization as it allows organizations to use selected functionalities of different IAM tools, paying only for what they really use and protecting all users with phishing-resistant passwordless authentication based on the FIDO standard.
Organizations today find themselves juggling multiple Identity Access Management (IAM) services. Sometimes it is because of the unique set of advantages to meet specific needs, and sometimes it is due to a vendor lock-in from a legacy system provider. Yet, this approach often leads to escalating costs, amplified security risks, and operational chaos. That's why, the search for a solution that can combine the strengths of various IAM tools without causing budget inflation, security compromises, or identity chaos has become imperative.
This is where Secfense IdP comes into play. As a great alternative to Ping Identity, Secfense IdP allows organizations to tap into the advantages of diverse IAM utilities, paying exclusively for what they truly need and safeguarding all users with phishing-resistant, passwordless authentication based on the FIDO authentication standard.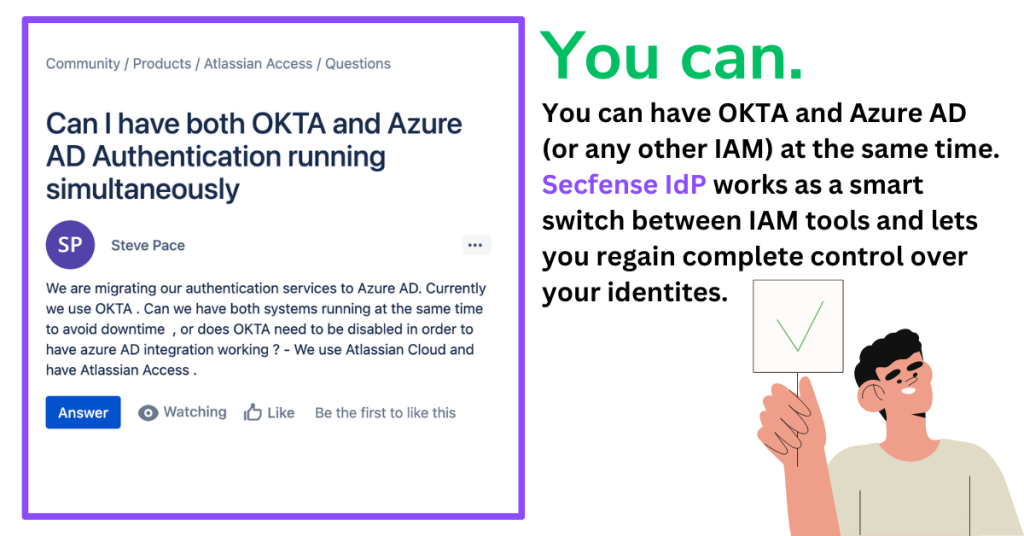 Migration between IAM tools
Reasons for IAM Solution Migration
Why would a company decide to migrate between IAM tools anyway? Migration between IAM services, such as from Microsoft Entra ID (previously Azure AD) to Ping Identity, can be driven by various factors. Companies might choose to migrate for reasons like improved functionality, more suitable security features, competitive pricing, technical support, compliance requirements, or as part of infrastructure consolidation. The final decision depends on individual preferences, company objectives, and specific needs, which calls for a comprehensive exploration of options and careful analysis before proceeding with the migration.
Leveraging Multiple IAM Solutions
Leveraging Multiple IAM Solutions is a strategic choice that some companies make. By concurrently utilizing two IAM platforms, like Ping Identity and Entra ID, organizations can address specific identity and access management requirements across different aspects of their operations. Each platform offers distinct features, integrations with various applications and identity providers, and appropriate support for different parts of the organization. This approach empowers companies to optimize their IAM strategy, overcoming constraints imposed by a single vendor and delivering optimal solutions for diverse user groups and applications.
Migration and Vendor Lock-in
Furthermore, the adoption of two IAM solutions simultaneously, such as Ping Identity and Entra ID, can serve various purposes. Companies may deploy both platforms during migration to ensure seamless operational continuity during the transition. Additionally, vendor lock-in might hinder a complete shift to a new solution, leading companies to work with two platforms side by side. This strategy provides enhanced flexibility, enabling companies to leverage the best features of both solutions before finalizing the migration or finding the most suitable IAM fit tailored to their specific requirements.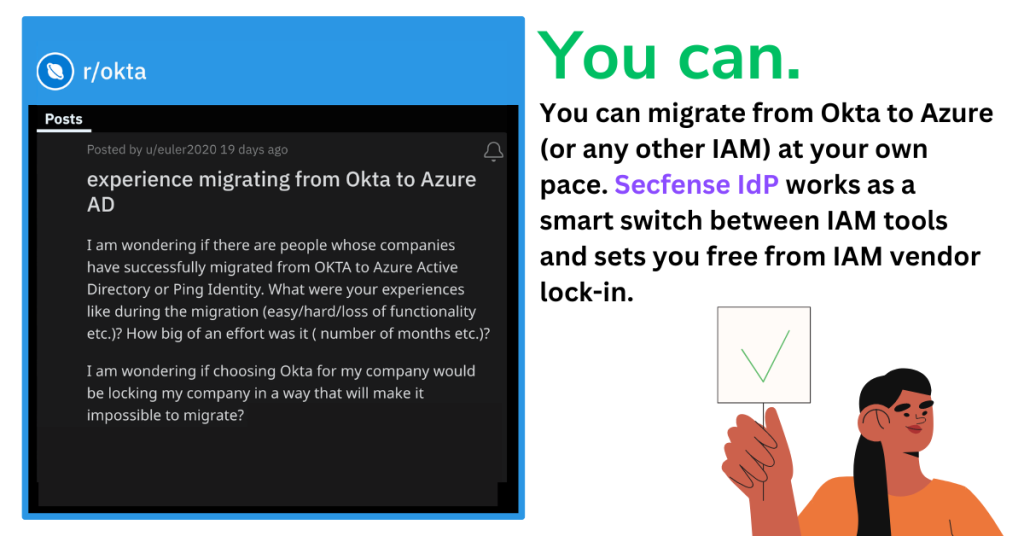 Advantages of using Secfense IdP over Ping Identity
Secfense IdP can be a great alternative or an addition to Ping Identity, depending on customer-specific needs. The biggest benefits of Secfense IdP are flexibility, independence, security, and scalability.
Clever Shift
Consider a scenario where a user signs into Office 365, which retains identities in Entra ID (or Azure AD), but the company also utilizes Ping Identity. Conventionally, all company staff using Office 365 are authenticated through Azure AD. If the business wishes to apply Ping Identity's features for a group of Office 365 users, it must undergo a complete, often problematic, and costly migration.
Secfense IdP, however, eliminates this issue. It empowers customers to decide which Office 365 users are authenticated in Azure AD and which in Ping Identity, thereby creating a smart transition between the two IAM solutions. In this way, all users, those whose identities are stored in Microsoft Azure AD as well as those whose identities are guarded by Ping ID, can now use Office 365.
Pay only for functionalities you use
With Secfense, customers only pay for IAM functionalities they actually use. Businesses can strategically select IAM services for different user groups, ensuring their choices are governed by business benefits and not limited by vendor lock-in. Contractors may be stored in one database, while company employees' identities can be stored with Ping ID. There's no need to pay extra licenses for contractors, and the decision on that should be led by company security policy and not by vendor lock-in.
No more IAM vendor lock-in
Secfense operates as an overarching IdP over other IAMs, independently sourcing identities from diverse IAMs. This functionality allows companies to avoid vendor lock-in by Ping Identity or other IAM providers and enables them to leverage the features of different Identity providers for various user groups, paying only for what they really need.
Overnight Passwordless Deployment
Lastly, Secfense IdP offers straightforward passwordless deployment and adoption thanks to the user access security broker approach. Regardless of the IAM solution in use, companies can abandon passwords and replace them with secure, FIDO-based authentication, and the transition will be unnoticeable from the perspective of the end-user and will not cause any inconvenience for the helpdesk as well.
Secfense IdP Is an Efficient, Cost-Effective Ping Identity Alternative
Transitioning from Azure AD to Ping Identity (or vice versa) is a seamless process with Secfense. As a superior IdP, Secfense independently acquires identities from different IAMs, making it an efficient and cost-effective alternative to Ping Identity. With Secfense, companies maintain control over which IAM functionalities they apply to particular user groups. By moving to secure, passwordless authentication with Secfense, businesses can regain full IAM vendor independence and only pay for the features they truly need.
Schedule a Free Trial of Secfense IdP with Passwordless Authentication
Contact us to schedule a free trial. During this period, we'll demonstrate how, in a smooth and non-invasive manner, we can enable you to utilize any IAM tools and their most beneficial functionalities without incurring high costs. We'll also show you how to implement passwordless FIDO authentication without interfering with the application code. The trial usually lasts seven days, and upon completion, you'll have a comprehensive understanding of how Secfense will operate in your infrastructure post-implementation.