The Middle East region has been a hotbed for cybersecurity issues in recent years. With the rapid growth of technology and the increasing digitalization of businesses and organizations, the threat landscape has become more complex than ever before. In this article, we will discuss the top cybersecurity risks that Middle East companies need to address.
Advanced Persistent Threats (APTs)
Advanced Persistent Threats (APTs) are one of the biggest cybersecurity challenges that Middle East companies are facing right now. These are highly sophisticated attacks that are designed to steal valuable data and intellectual property from targeted organizations. APTs are often carried out by well-funded and well-organized cybercriminals who use a variety of techniques, including malware, social engineering, and phishing attacks, to gain access to their targets. The Middle East region is particularly vulnerable to APTs due to its political instability and the high value of the information held by many organizations. For example, in the story about the Saudi Aramco cyber attack, APTs were used to target the company's computer systems, resulting in significant damage to its operations.
Insider Threats
Insider threats, such as employees stealing data or introducing malware into a company's systems, are also significant cybersecurity concerns for companies in the Middle East. This can be especially challenging in industries such as banking and finance, where employees may have access to sensitive customer information. One solution to this problem is to implement identity and access management (IAM) systems with strong authentication mechanisms. These systems can help to control access to sensitive information and data, ensuring that only authorized employees have access.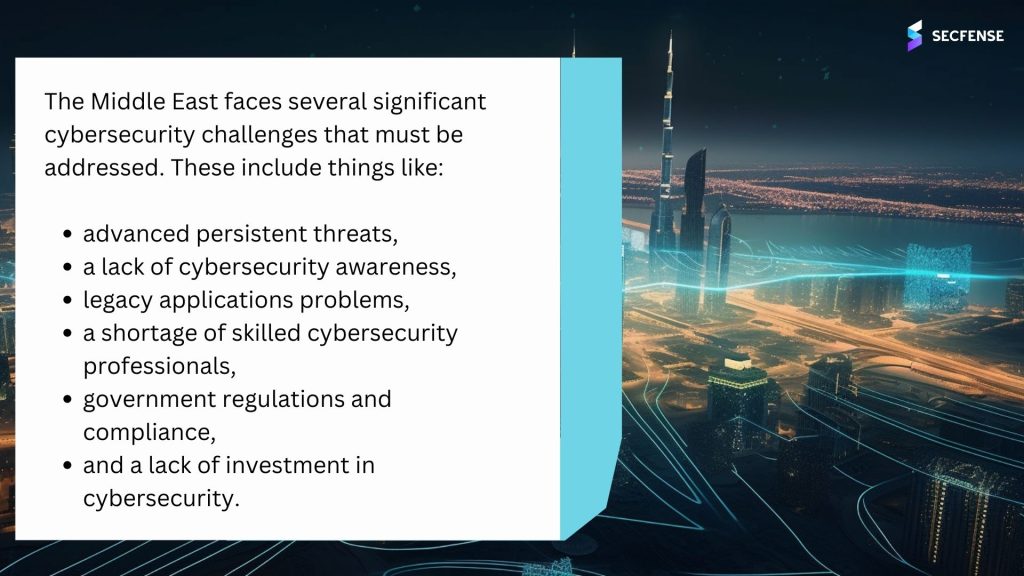 Lack of Cybersecurity Awareness
Another major challenge facing Middle East companies is the lack of cybersecurity awareness among employees. Many employees are not aware of the cybersecurity risks associated with using digital technologies, such as using weak passwords or clicking on suspicious links in emails. This makes it easy for cybercriminals to carry out successful attacks against these companies. In the story about the Qatar National Bank cyber attack, it was found that one of the main reasons for the attack's success was the lack of cybersecurity awareness among the bank's employees. Many employees fell victim to a phishing scam, which allowed the attackers to gain access to the bank's computer systems.
Legacy Applications
Many companies in the Middle East are still using legacy applications that vendors no longer support. These applications can be more vulnerable to cyber-attacks because they may not have the latest security updates. MFA can help to secure these applications by adding an additional layer of protection.
Shortage of Skilled Cybersecurity Professionals
The Middle East region is currently experiencing a shortage of skilled cybersecurity professionals. This means that many companies are struggling to find the right talent to help them defend against cyber threats. The shortage of skilled cybersecurity professionals is particularly acute in countries like Saudi Arabia, where there are few cybersecurity training programs and a lack of awareness about the importance of cybersecurity as a career. This shortage makes it challenging for Middle East companies to defend against sophisticated cyber threats.
Government Regulations and Compliance
Another challenge that Middle East companies face is complying with government regulations and cybersecurity laws, often requiring the use of strong two-factor authentication. Many Middle Eastern countries have strict regulations that companies must comply with, such as data privacy laws and regulations related to the storage and transmission of sensitive information. However, complying with these regulations can be difficult, especially for smaller companies that may not have the resources to implement the necessary cybersecurity measures. Non-compliance can result in hefty fines and reputational damage, which can be devastating for many companies.
Lack of Investment in Cybersecurity
Finally, many Middle East companies are struggling to invest in cybersecurity due to budget constraints. Cybersecurity can be expensive, and many companies may not have the resources to invest in the latest technologies and cybersecurity measures. This makes it difficult for them to defend against the latest cyber threats. Furthermore, many companies may not see cybersecurity as a priority, especially if they have not yet experienced a major cyber attack. However, the consequences of a successful cyber attack can be devastating, and companies need to invest in cybersecurity to protect their operations and their customer's data.
In conclusion, the Middle East faces several significant cybersecurity challenges that must be addressed. These include advanced persistent threats, a lack of cybersecurity awareness, legacy applications problems, a shortage of skilled cybersecurity professionals, government regulations and compliance, and a lack of investment in cybersecurity.
How does Secfense address these challenges?
Secfense is a cybersecurity company that provides an innovative approach to strong authentication (MFA) adoption in big organizations. Here's how Secfense addresses some of the challenges listed above:
Insider threats: 63% of successful attacks come from internal sources, and 33% involve social engineering. With microauthorizations, Secfense addresses this challenge by requiring users to confirm their identity before accessing sensitive data. This way, only authorized users can access sensitive data, reducing the risk of insider threats.
Legacy systems: Many companies have legacy systems that are no longer supported by the original vendor, making them vulnerable to cyberattacks. Secfense solves this problem by adding multi-factor authentication (MFA) without touching the application's code. This way, legacy applications can be protected in a no-code way, making them more secure.
Government Regulations and Compliance: Secfense is an excellent solution for helping organizations comply with government regulations. With an increasing number of regulations requiring Multi-Factor Authentication (MFA) to be implemented, Secfense's solution can help organizations implement modern MFA (like FIDO-based biometric authentication) in just a few minutes on any government application. This not only ensures compliance with government regulations but also provides an additional layer of security for sensitive information. With Secfense, government agencies can be confident that their applications are secure and that they are meeting regulatory requirements without having to spend an excessive amount of time and resources implementing MFA.
Shortage of Skilled Cybersecurity Professionals: The shortage of skilled cybersecurity professionals is a major challenge for many organizations. With the increasing complexity of cyber threats, it can be difficult for organizations to keep up with the latest security trends and implement effective security measures. However, with Secfense, organizations can address this challenge by adopting a codeless MFA solution. Secfense's microauthorization solution can be implemented without the need for software developers or cybersecurity specialists. This means that organizations can implement MFA in minutes without the need for any additional resources or specialist knowledge. As a result, the engagement of specialists drops by more than 80%, which frees up their time to focus on other critical security tasks. This not only helps to address the shortage of skilled cybersecurity professionals but also improves the overall security posture of the organization.
Overall, Secfense provides effective solutions to some of the most pressing cybersecurity challenges faced by companies today. By addressing insider threats, legacy systems, and government surveillance, Secfense helps to keep sensitive data secure and protected.