Safebank – Foundations of Security in Banks 2022 is a one-day event bringing together cybersecurity experts from the banking and financial services industry in Poland to discuss pressing issues facing modern financial institutions. This year's conference will feature presentations on topics like new regulations, such as the DORA (Digital Operational Resilience Act) regulation, but also the development of information exchange systems, without which it is impossible to avoid attempts to use the financial system for money laundering or ordinary credit fraud.
Working together
The security of the financial system is one of the top priorities for banks and other financial institutions. This area is also one where the banking sector works collectively to build a stable, resilient infrastructure that can withstand both criminal attacks and attempts at destabilization by hostile states or groups. Given today's dynamic technological landscape and the increasingly sophisticated nature of cyber threats, ensuring financial security has never been more important.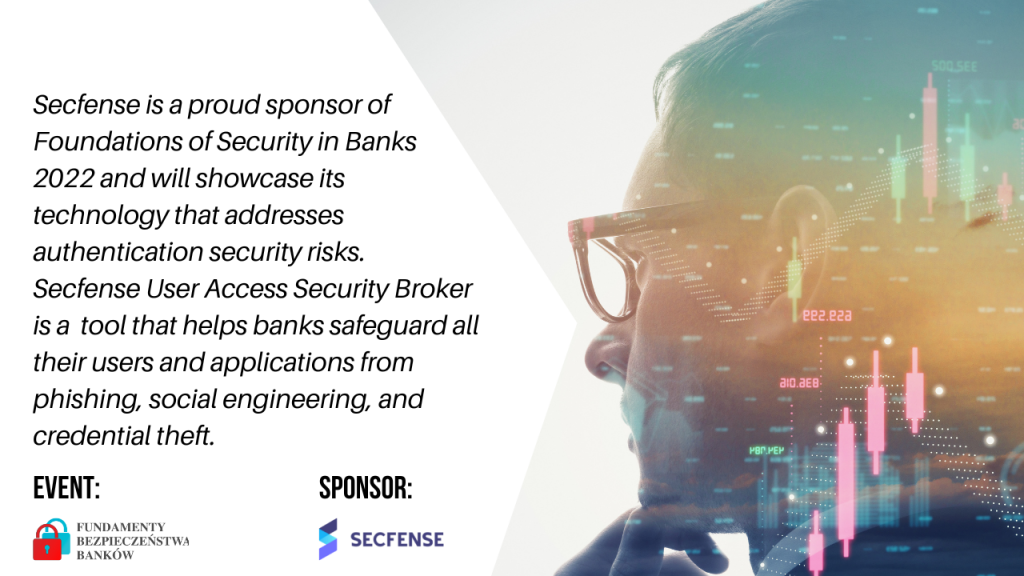 The importance of raising awareness about cybersecurity risks
Banks, regulators, and ordinary consumers agree on one thing: ensuring the safety of using financial services should be taken into account at every stage of the design, operation, and development of IT services and products. Unfortunately, cyber awareness of everyday online users often does not keep up with the development of threats in the cyber world.
Less than 30% of Poles feel joint responsibility for the security of financial electronic services, while almost 75% of Poles would transfer all responsibility for the effects of possible fraud to banks, claiming that they are the most important link in security.

Center for Banking Law and Information
Secfense is a proud sponsor of Safebank – Foundations of Security in Banks 2022
Secfense is a proud sponsor of Safebank – Foundations of Security in Banks 2022 and will showcase its technology that addresses authentication security risks called User Access Security Broker.
Secfense User Access Security Broker is a reliable solution that helps banks safeguard all their users and applications from phishing, social engineering, and credential theft. With Secfense broker, an organization can easily add strong multi-factor authentication (based on, for example, FIDO2 standard) to any application – regardless of whether it's a modern app or an older legacy app. Plus, there's no need to make any code changes to the application in order to use Secfense and trigger passwordless MFA. This makes it easy and convenient for any bank to use Secfense to protect its employees and customers from cyber threats. During the show, attendees will be able to watch a live demo of Secfense broker and also sign up for broker testing. Let's meet during the show!