The goal that we've set for 2019 was simple.
Put Secfense User Security Broker in front of cybersecurity audience.
Get some use cases, receive feedback, schedule and launch POCs.
As we are reaching the end of the year we can say that a lot has been achieved so far.
But also the biggest work is still ahead of us.
How to select an industry event
Q4 has always been the busiest season of the year in information technology.
There's a ton of interesting events taking place all over the world.
It's not an easy job to select only a handful of them.
We knew we had to make the selection criteria clear and measurable.
And so we did.
If we can't showcase our product and do the demo = we don't go.
If we can't schedule one-on-one client meetings before the show = we don't go.
Events in (enterprise b2b industry) can bring the best conversions comparing with all other marketing activities. But also – if done in a wrong way – can be the easiest way to waste huge amount of money really fast.
Secfense Events Q1 – Q3 2019
The first half of 2019 we dedicated to industry-specific events.
You can read more about a great fintech show in London called Finovate.
You can also check how we did on DMEA, a healthcare fair in Berlin.
We have also participated in pitch competitions focused on connecting investors with startups.
That was the case of Pirate Summit in Germany or Economic Forum in Krynica.
Market-Specific Events vs. Cybersecurity Events
Picking market-specific events first was a conscious and well-thought decision.
First, we wanted to learn more about some market-related challenges.
Then, apply what we learned and introduce it to our product roadmap.
Now in September, we are finally ready to showcase events dedicated only to cybersecurity.
Event Calendar for Q4 2019
Our first international cybersecurity show will be CyberTechEurope in Rome, Italy.
You can meet us there 24-25 September 2019 and see our identity management solution.
We're really excited as we already have some meetings booked with enterprise visitors.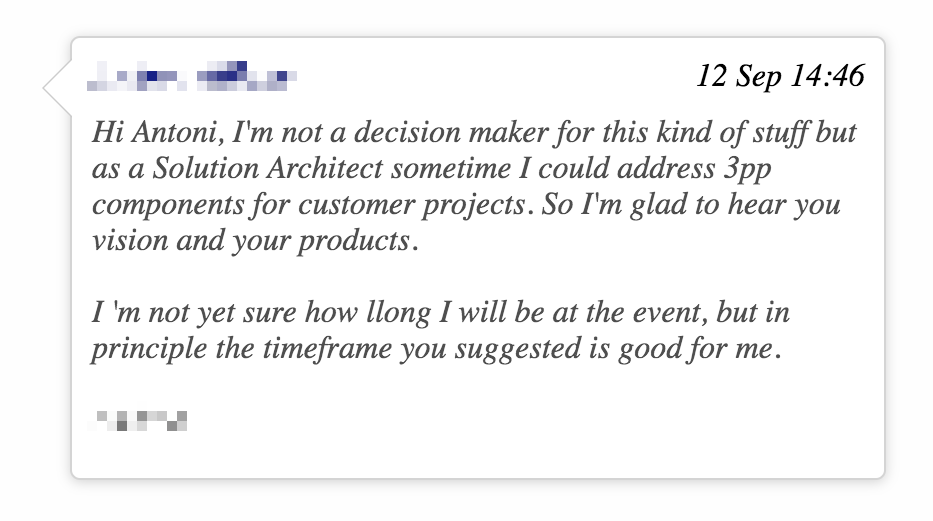 The very next day after coming back from Rome we have a competition to attend.
We were invited to attend in Baillie Gifford Discovery Competition for startups ups in Kraków.
This competition was a direct consequence of some other event we took part in earlier this year.
It was The Heart Warsaw Corporate Days, and our demo won us a ticket for the Baillie Gifford event.

After Kraków, we will have some days to catch a breach, and then October comes.
7-10 October 2019, we will be giving a 20-minute demo during IT SA in Nuremberg, Germany.
We will be talking about WebAuthn and showing how it works on our partner's hardware.
Cherry GmbH is a hardware company, and producer of the biometric mouse MC 4900.
During IT-SA, we will be showing how to turn their biometric authentication mouse into a web authenticator.
How to kill two birds with one stone
The end of October will be especially challenging and exciting for us.
First, we got invited to the Total Telecom Congress in London by the event organizers.
This is something special because we were hand-picked by a number of competing startups.
The congress takes place from 29-30 October and attracts thousands of telecom experts every year.
What we didn't expect is that the very same day, another huge cybersec event will take place.
CyberSecExpo in Katowice, Poland, is the largest cybersecurity fair in the CEE region.
Since it's taking place exactly 29-30 October, it will be a huge logistic challenge…
but hey! No one said it's gonna be easy!
What's next for Secfense?
So these are the events that are confirmed. What else will come up in 2019?
Who knows.
We are actively participating in startup competitions and accelerator invitations on F6S.
So it's likely that there will be more events booked in our calendar before the year is over.
If you'd like to stay in touch with us then the best way is to follow us on Linkedin.
We post a lot of interesting stuff about identity management, 2FA, FIDO2 (also known as WebAuthn), and more.
If you're looking for info about phishing and credential theft risks you will find it all here.
Our company profile is here.
Tomek and Antoni are the guys to talk about finding a fix to any authentication-related challenges.
When you want a real tech talk you can reach out directly to Marcin our technology wizard.