Secfense partners with EMS Partner
Secfense User Access Security Broker is now available in the EMS Partner offer. EMS Partner is one of the largest VARs in Poland operating in the cybersecurity sector. EMS Partner customers can now easily and quickly apply state-of-the-art multi-factor authentication (MFA), including FIDO2. With Secfense UASB, customers can secure any web application in 5 minutes and the entire company in an average of 7-14 days.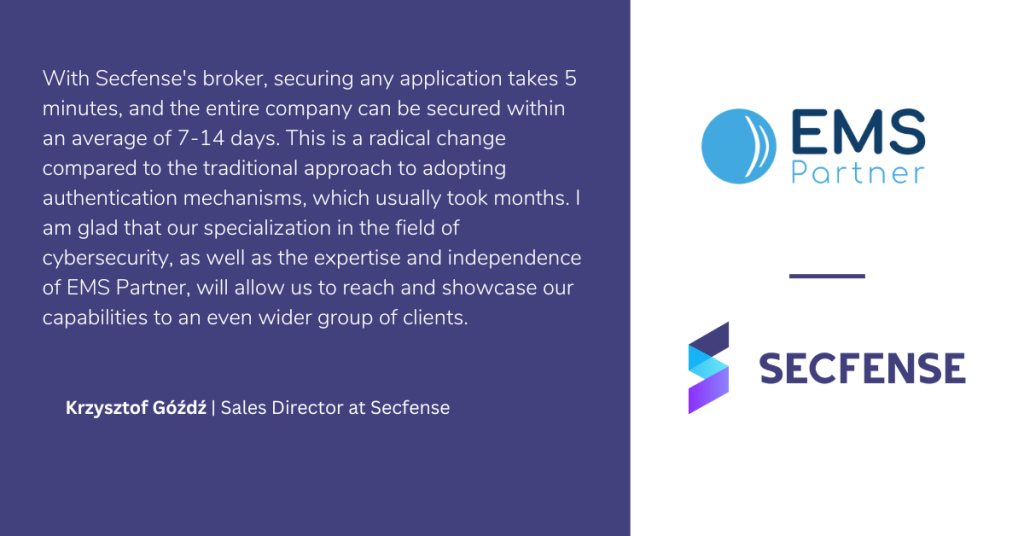 Companies around the world have begun the MFA transformation. They are abandoning outdated password-based authentication and replacing it with passwordless and secure authentication based on the FIDO standard. Secfense's solution for easy and express MFA adoption fits perfectly into this change.
"With Secfense's broker, securing any application takes 5 minutes, and the entire company can be secured within an average of 7-14 days," says Krzysztof Góźdź, responsible for sales and cooperation with partners at Secfense. "This is a radical change compared to the traditional approach to adopting authentication mechanisms, which usually took months. I am glad that our specialization in the field of cybersecurity, as well as the expertise and independence of EMS Partner, will allow us to reach and showcase our capabilities to an even wider group of clients."
Partnership and symbiosis
Secfense User Access Security Broker complements EMS Partner's offerings in the sensitive realm of multi-factor authentication. It will also allow its customers to quickly meet the requirements of the EU directives DORA and NIS 2, which are coming into force. This is because it allows easy implementation of any MFA (including today's most successful FIDO2) on any application without interfering with its code.
"There is no shortage of MFA solutions on the market, but so far, no one has proposed a method that allows for easy, fast, and large-scale application of them to multiple applications and systems," says Tomasz Kowalski, CEO and co-founder of Secfense. "We have succeeded in doing so. The Secfense Broker addresses many security challenges faced by large companies. It brings together many scattered puzzle pieces in the form of different systems and organizes them, creating a virtual protective layer. Moreover, it does not require a revolution, complicated and time-consuming implementations, or gigantic budgets because we are able to intelligently connect and systematize what companies already have in place, so that MFA covers the entire organization, not just a fragment of it."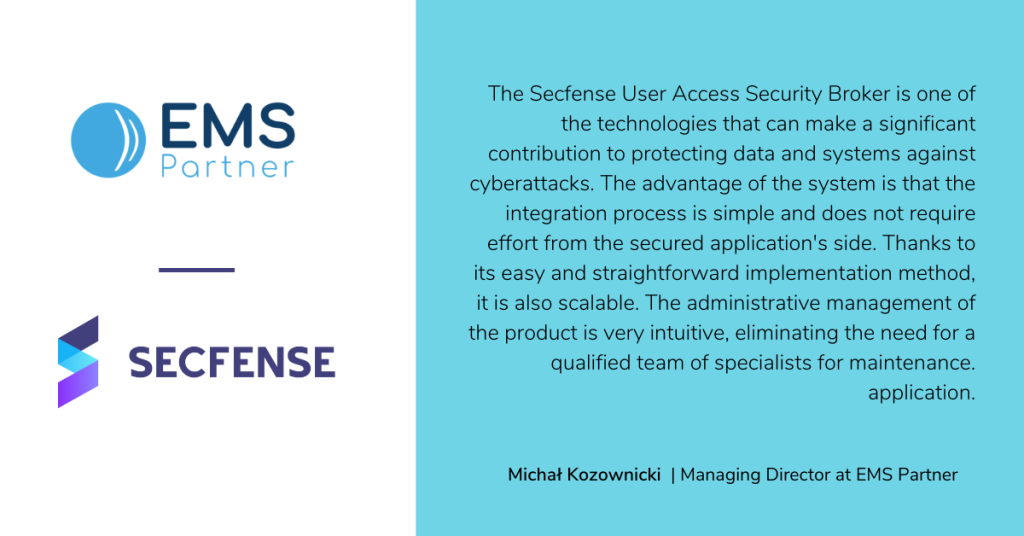 An important advantage of the User Access Security Broker is that it can be customized to meet the specific needs of any company that wants to protect its applications effectively. Its distinguishing feature is also the ability to work inside the organization's server room being secured. This way, it doesn't have to transfer its sensitive employee, partner, or customer data to any cloud operator. Not only does this ensure confidentiality and privacy, but also compliance with requirements such as. GDPR.
"The Secfense User Access Security Broker is one of the technologies that can make a significant contribution to protecting data and systems against cyberattacks," says Michał Kozownicki, Managing Director at EMS Partner. "The advantage of the system is that the integration process is simple and does not require effort from the secured application's side. Thanks to its easy and straightforward implementation method, it is also scalable. The administrative management of the product is very intuitive, eliminating the need for a qualified team of specialists for maintenance," he concludes.
"Our clients – regardless of the scale of their operations or the industry they operate in – can secure all their web applications using this solution. It is worth mentioning that the system also works with hardware keys, allowing for their implementation where a fleet of mobile devices is not available. However, if a client has an extensive fleet, they can take advantage of the Secfense Authenticator application," adds Michał Kozownicki.
Secfense has been in the cybersecurity business since 2018. The company was founded by two experts, Marcin Szary and Tomasz Kowalski, who have been focusing on cybersecurity with an emphasis on identity management for more than twenty years. It is developed by a dynamic team and supported by investors and mentors in the field of new technologies. He works with such user protection authorities as the FIDO Alliance, Google, Yubico, NVIDIA, and EY.