The technology that protects against phishing and credential theft and does not require any engagement of software developers in the implementation process is now available to cooperative banks in Poland. Secfense and CRUZ (Center for the Development of Association Services) have just signed an agreement under which the CRUZ offer for cooperative banks will include the User Access Security Broker.
The User Access Security Broker has already gained recognition in commercial banks. On a daily basis, it is used, among others, by BNP Paribas Poland. This cooperation has been repeatedly awarded by experts in the field of cybersecurity in Poland.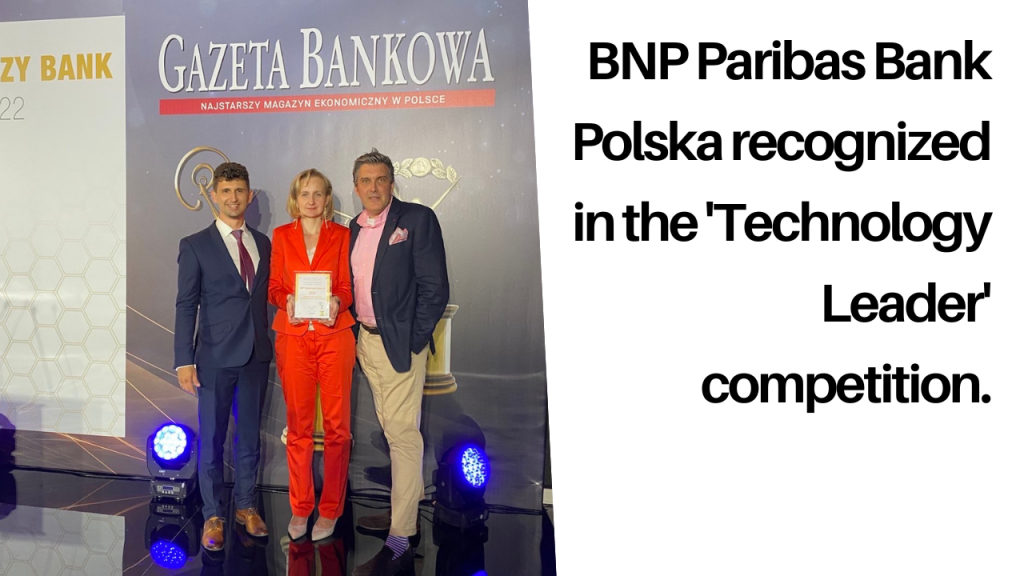 Successful tests
The User Access Security Broker functionality has been tested and validated by CRUZ. Thanks to the implementation of Secfense broker, CRUZ employees can use MFA at the application level. Thus, the entire organization can no be protected against phishing and credential theft.
After conducting a proof of value, the User Access Security Broker created by Secfense was added to the list of products and services offered by CRUZ.
– We are responsible, among others, for cybersecurity outsourcing and help cooperative banks protect themselves against cybercriminals. That is why we are constantly looking for solutions that will allow banks not only to increase their competitiveness but also to ensure the highest level of security – says Paweł Gula, President of the Management Board of CRUZ. – Secfense is a good fit for many reasons: it has been tested by the most demanding entities in our industry, it increases the level of protection against identity-related attacks, and it protects against phishing. On top of that, it does not require hiring new IT specialists and software engineers.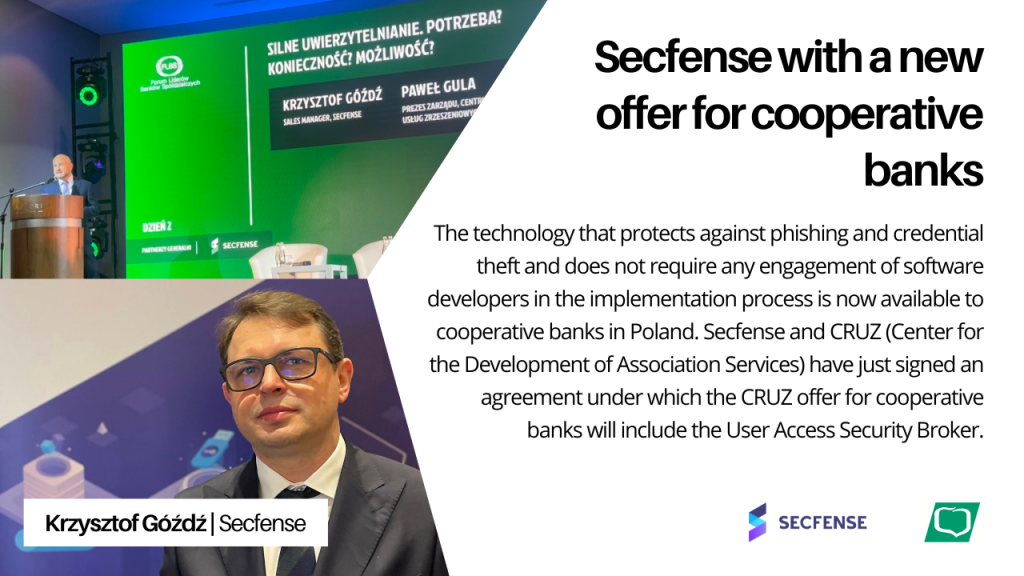 Equal security to commercial banks
Credential theft is today one of the most common causes of attacks on financial institutions. Cybercriminals usually choose e-mail to obtain sensitive data. In Poland, according to the ZBP (Union of Polish Bankers) InfoDok report, only in the first quarter of 2022, fraudsters made 1,915 attempts to steal data, for a total of successful theft of more than 120,000 USD. This is an average of 21 scams a day.
The targets of attacks are very often banks and financial institutions that use various technologies to defend themselves. One of them is multi-factor authentication (MFA).
Cooperative banks in the spotlight
Cooperative banking customers expect further innovations and services; therefore, management boards of cooperative banks must consider that intruders will be increasingly interested in compromising that. Some cooperative banks – located outside major cities – are increasingly becoming the target of less advanced criminals who, operating from Eastern Europe or China, are also more difficult to catch by the police.
CRUZ's decision to include User Access Security Broker in its portfolio allows more than 550 cooperative banks in Poland to protect their resources against phishing, using not only the well-known MFA methods (SMS, TOTP codes), but also the most effective today, i.e. an open web authentication standard called FIDO2.
FIDO2 allows you to use cryptographic keys, but also devices that we always have with us, such as laptops with a built-in camera, Windows Hello, or smartphones with a fingerprint reader – says Krzysztof Góźdź, Sales Director at Secfense. – It is the only solution today that is fully resistant to phishing and credential theft. Unfortunately, due to the difficulty of implementation – still not used enough. Thanks to Secfense technology and CRUZ's decision to include a User Access Security Broker in the offer, every cooperative bank can now have authentication security at their fingertips.
FIDO2 without any coding
By implementing Secfense broker, cooperative banks are now able to protect the entire organization with phishing-proof FIDO2 authentication. And what's important, the entire implementation doesn't require any coding; therefore, no involvement of any extra software engineer or IT specialist in the process.
The new Secfense technology offered by CRUZ operates in the conditions of "zero" knowledge about applications and the IT environment. Therefore, it is ideal for cooperative banks whose applications and technical infrastructure components are often administered and managed by external providers.
– Until now, cooperative banks have not been able to afford time-consuming and expensive implementations in the field of user online security – adds Krzysztof Góźdź. – I am glad that the availability of Secfense technology allows them to get the same level of protection as big international banks.
Cooperative banks are more and more boldly competing with commercial banks and are systematically modernizing their offer. They have their branches in large cities, and those from smaller locations are trying to attract customers from outside the region by developing electronic access channels and expanding their offer with services that go beyond the basic standard.
Cooperative banks share similar values on a daily basis: solidarity, self-help, flexibility, closeness, trust, co-management, fight against financial exclusion and care for the environment. From now on, thanks to the cooperation between CRUZ and Secfense, IT security is also added to this list.
Schedule free testing of Secfense broker here >>>