Best Okta Alternative
In 2023, Secfense emerged as a great alternative to Okta, offering the flexibility to either replace Okta or work alongside it as an additional layer. This means you can leverage Secfense IdP to use selected functionalities from various IAM tools, paying only for the features you actually use. One of the key benefits is its ability to protect all users with a phishing-resistant passwordless authentication system based on the FIDO standard, enhancing security across the organization.
Enterprise Architects, IAM Specialists, and Application Owners may find themselves managing multiple IAM services, each with its own advantages tailored to specific needs or due to vendor lock-in from legacy systems. However, this approach often leads to higher costs, increased security risks, and operational complexities. To overcome these challenges, Enterprise Architects need a solution that can consolidate the strengths of different IAM tools without compromising the budget, or security, or causing identity-related issues.
Secfense IdP is the solution to this challenge. It offers a straightforward approach to benefit from various IAM utilities without unnecessary expenses. By choosing only the features they require, organizations can optimize costs and enhance their IAM infrastructure. Additionally, the system's phishing-resistant, passwordless authentication ensures users are well-protected from potential threats.
Migration between IAM tools
Reasons for IAM Migration
But why would a company decide to migrate between IAM solutions anyway? Companies may decide to migrate from one IAM (Identity and Access Management) to another, such as from Microsoft Entra ID (previously Azure AD) to Okta, due to better functionality, more suitable security features, competitive pricing, technical support, compliance requirements, or as part of infrastructure consolidation. The final decision depends on individual preferences, company goals, and specific requirements, necessitating a thorough examination of options and proper analysis before migration.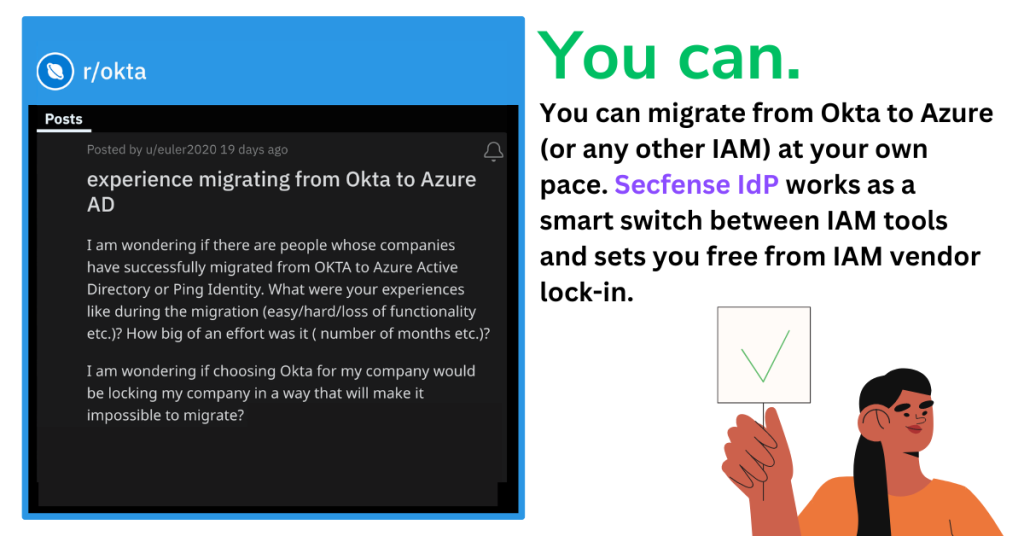 Advantages of using Multiple IAMs
Companies sometimes decide to simultaneously use two IAM solutions, like Okta and Entra ID (previously Azure AD), due to the functionalities of a specific IAM, or they can simply be preparing for a migration. Each IAM platform offers unique features and integrations with various applications. Using different IAMs may allow companies to hand-pick the best aspects of different IAM solutions, creating a more flexible IAM strategy. So using two solutions can help overcome limitations imposed by a single vendor and provide optimal solutions for various user groups and applications.
Migration between IAMs
At times, companies choose to use two IAM solutions, such as Okta and Entra ID (previously Azure AD), concurrently for various reasons. Firstly, they might be in the process of migrating from one solution to another and temporarily using both to maintain operational continuity. Secondly, they could be restricted by vendor lock-in, making it challenging to entirely transition to a new solution, prompting them to collaborate with two platforms simultaneously. This approach grants companies greater flexibility and the ability to leverage the best features of both solutions before completing the migration or finding the optimal solution that meets their specific needs.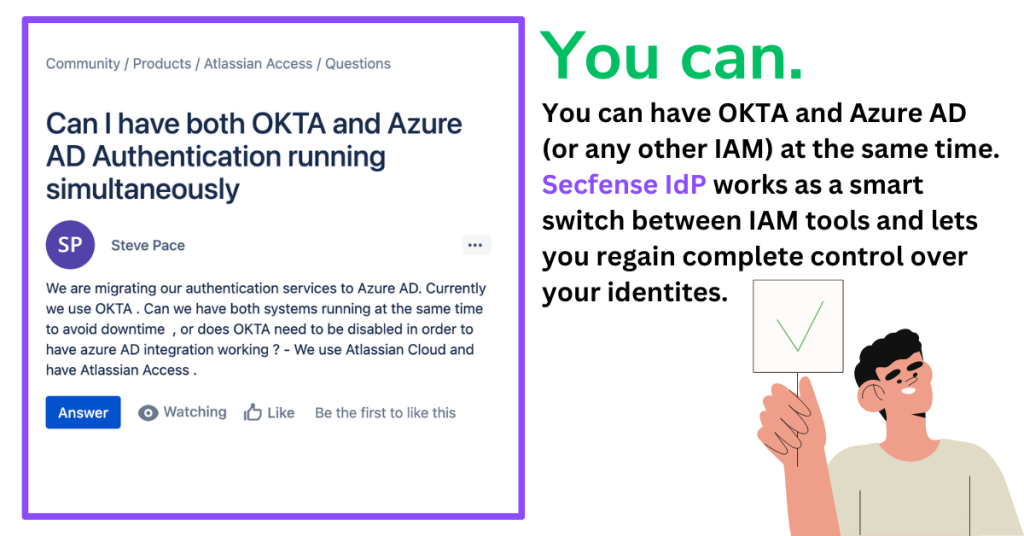 Advantages of using Secfense over Okta
Secfense IdP is a versatile option that can either replace or work alongside Okta, depending on what the customer requires. The main advantages of Secfense IdP are its flexibility, independence, security, and scalability.
Intelligent Switch
Secfense IdP works as an intelligent switch that allows you to choose your IAM tool based on business needs and benefits, not vendor lock-in. Whether you are using Office 365 with Azure AD or have employees authenticated with Okta, Secfense empowers you to decide how these identities are managed. You can freely configure your identity settings to optimize the functionalities of these IAM tools.
Pay Only for Functionalities You Use
One of the significant advantages of Secfense IdP is allowing you to pay the IAM provider only for users that use specific functionalities. Office 365 does not allow identity sharing between several IAM providers. So the company would have to decide which benefits it wants to lose, those offered by Okta or other IAM providers like, e.g., Azure AD. Then it would have to condemn itself to an extremely risky migration, often resulting in:
organizational chaos
helpdesk overload
huge transformation costs
With Secfense idP, you can bind Office 365 to Okta, Azure AD, or any other IdP and only pay for licenses and the functionalities you actually use. This means you can efficiently tap into the unique functionalities of different IAM tools without incurring unnecessary costs.
IAM Vendor Independence
Secfense operates as an overarching IdP on top of other IAMs, independently sourcing identities from different IAMs. This feature ensures that you are not restricted or locked into a single IAM vendor, such as Okta, but instead, have the freedom to use various identity providers based on your needs.
Easy Passwordless Deployment
Secfense provides a seamless transition to secure passwordless authentication. By adhering to the FIDO authentication standard, Secfense ensures top-tier, phishing-resistant, passwordless authentication, regardless of which IAM tool you choose to use and which applications you want to protect. Secfense User Access Security Broker's approach to passwordless adoption makes a significant difference compared to any other MFA provider available on the market Secfense Broker enables passwordless overnight without any interference with the code and without any friction to the end users.
Secfense IdP Is an Efficient, Cost-Effective Okta IdP Alternative
Secfense IdP proves itself as an efficient and cost-effective alternative to Okta IdP. With its ability to streamline selected IAM tool functionalities, the freedom to switch between IAMs intelligently, independence from a single IAM vendor, and easy deployment of FIDO2-based passwordless authentication, Secfense IdP is a top alternative to Okta in both efficiency and cost-effectiveness.
Schedule a Free Trial of Secfense IdP with Passwordless Authentication
Witness firsthand the unique benefits that Secfense IdP brings to your IAM processes. Contact us to schedule a free trial where we will demonstrate how smoothly and non-invasively you can leverage the functionalities of any IAM tools without incurring high costs. We will also show you how to implement passwordless FIDO authentication without interfering with the application code. The trials typically last seven days, offering you a comprehensive picture of how Secfense will perform in your infrastructure following implementation. Experience IAM independence with Secfense today.