VARs and system integrators
A value-added software reseller (VAR) are companies that enhance existing software products by bundling them with complementary services or features and resell them to end-users providing tailored solutions for optimal business performance.
A system integrator company unifies diverse components like software, hardware, and networks, creating seamless solutions to streamline processes, increase efficiency, and support clients' business goals and operational needs.
The roles of system integrators and value-added resellers (VARs) are becoming increasingly important for enterprises as more and more organizations decide to use their service instead of looking independently for software and hardware vendors. One of the important parts of these companies' job is to make sure that implemented solution integrates well with the client's IT infrastructure and that the implementation goes smoothly. A more automated approach to integration may soon eliminate this area. In this blog post, we'll explore the benefits such a scenario would offer system integrators and VARs and reveal how Secfense makes this possible with its User Access Security Broker technology.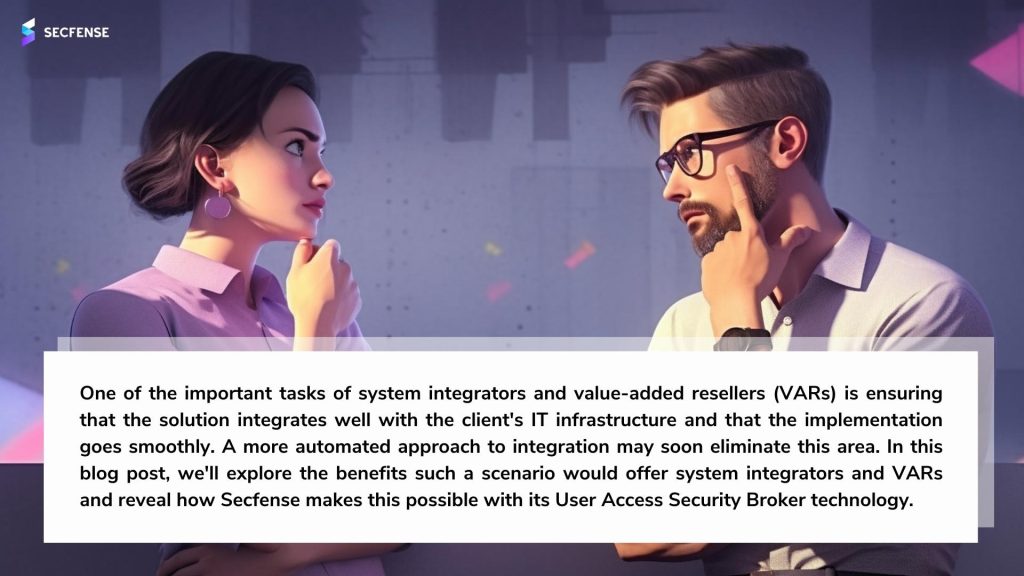 Benefits of codeless integration
Benefits for System Integrators and VARs: By eliminating the need for manual software implementation and integration, system integrators and VARs stand to gain numerous advantages, including:
Reduced costs and resources:

Automatic software implementation and integration save time and money by reducing the need for specialized personnel and streamlining the process. This allows companies to focus on delivering value to their customers and growing their businesses.

Faster deployment:

With no need for manual coding, system integrators, and VARs can deploy software solutions more quickly and efficiently, leading to shorter project timelines and increased customer satisfaction.

Enhanced competitiveness:

The ability to offer cutting-edge solutions that require minimal implementation efforts helps system integrators and VARs stand out from the competition, making them more appealing to potential clients.

Improved customer experience:

Clients benefit from the seamless integration of software solutions that require minimal effort, leading to a better overall experience and stronger relationships with system integrators and VARs.
Introducing Secfense and User Access Security Broker
Secfense is revolutionizing the software industry with its core technology, User Access Security Broker. This groundbreaking innovation allows organizations to add any MFA method and user access policies without coding or hiring software developers for integration. The top three benefits of Secfense's broker include:
Independence:

FIDO2 authentication (and other Multi-Factor Authentication methods) is built into the fabric of the infrastructure, removing the need for rigid application-specific implementations.

Flexibility:

Start using FIDO2 or any other MFA method of your choice without making any changes to the protected applications' code, offering unparalleled adaptability.

Scalability:

Protection is available across the entire organization, spanning on-premise, public, and private cloud environments, ensuring comprehensive security coverage.
Conclusion
The future of software implementation and integration is revolutionizing how system integrators and value-added resellers operate. With Secfense's User Access Security Broker, these companies can unlock numerous benefits, including reduced costs, faster deployment, and improved customer experiences. Embrace the power of Secfense to stay ahead of the curve and secure your place in the rapidly evolving software industry.