Face scan, fingerprint, and physical security key that looks like a flash drive. Today, these are the only ways to effectively prevent cybercriminals from taking over the identity of network users. Secfense – the creator of the User Access Security Broker, and Yubico, the leading provider and creator of the YubiKey, a hardware security key that enables modern two-factor, and passwordless authentication, are working together to show businesses that easy-to-use, modern, and effective multi-factor authentication (MFA) protection are available for all companies at their fingertips.
More than 80% of personal data leaks and thefts start with the theft of a user's online identity – whether an employee, partner, supplier, or customer. Intruders often use email or even SMS as the first form of attack. This is also confirmed by the database analysis MITRE ATT&CK Framework or Verizon 2022 Data Breach Investigation Report.
Due to the constantly growing threats, modern MFA cannot be just an option for any company or institution today. It must be a standard that effectively protects organizations against attacks.
Broker Secfense is a tool that enables the implementation of MFA of any supplier – quickly, without coding, and without IT support in even the most complex IT environment of the client.
– Very often, we come across the opinion that the proper MFA method, i.e., FIDO2 or physical security key, cannot be implemented in many cases due to limitations of old systems, which can prevent the installation of modern protection methods in this area – says Tomasz Kowalski, CEO at Secfense.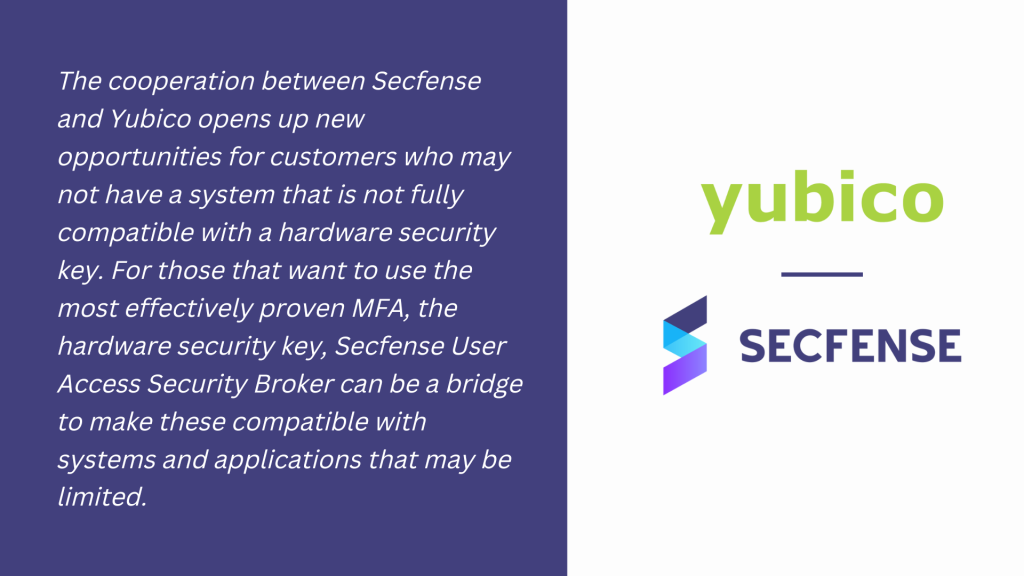 The cooperation between Secfense and Yubico opens up new opportunities for customers who may not have a system that is not fully compatible with a hardware security key. For those that want to use the most effective proven MFA, the hardware security key, Secfense User Access Security Broker, can be a bridge to make these compatible with systems and applications that may be limited.
– Yubico's mission is to protect and make the internet more secure for everyone, -said Marcin Majchrzak, Regional Sales Manager for DACH & CEE at Yubico. – Partnering with like-minded companies like Secfense helps us further that mission and protect global organizations from malicious cybersecurity attacks.
Utilizing modern MFA solutions, like YubiKeys and Secfense User Access Security Broker, is critical to preventing an enterprise or institution from becoming a victim of attacks such as phishing.