LoveKraków.pl has selected 5 promising startups in Krakow that are worth paying attention to in 2022. Secfense was also among the most interesting five.
Secfense, a promising startup from Krakow
While it's no surprise that most startups usually have their headquarters in the capital, there are also cases where interesting tech companies are born elsewhere. This is also the case of Secfense, a startup that was founded in 2018 by Marcin Szary and Tomasz Kowalski.
Marcin Szary
Marcin is one of the co-founders and CTO of Secfense. He has been building his experience in the field of new technologies since 2005, specializing in IT security, digital identity management, and access control.
In his career, Marcin has advised many startups in the area of mobile, telecom, and cybersecurity. He is the originator and creator of the security tool, that was recognized by Orange Polska as the most innovative solution of a startup competition. Marcin is also a finalist of the Visegrad Group competition (Silicon Valley V4 Tech Match), which resulted in participation in a mini-accelerator in the Silicon Valley.
Tomasz Kowalski
The second of the co-founders of Secfense is Tomasz Kowalski, CEO. Tomasz has been building his experience in selling IT technologies since 2003. Tomasz has participated in hundreds of hardware and software implementations in large and medium-sized companies from the financial, telecommunications, industrial and military sectors.
Tomasz and Marcin met in 2003, collaborating many times on various IT projects. In 2018 they finally decided to join forces and create Secfense.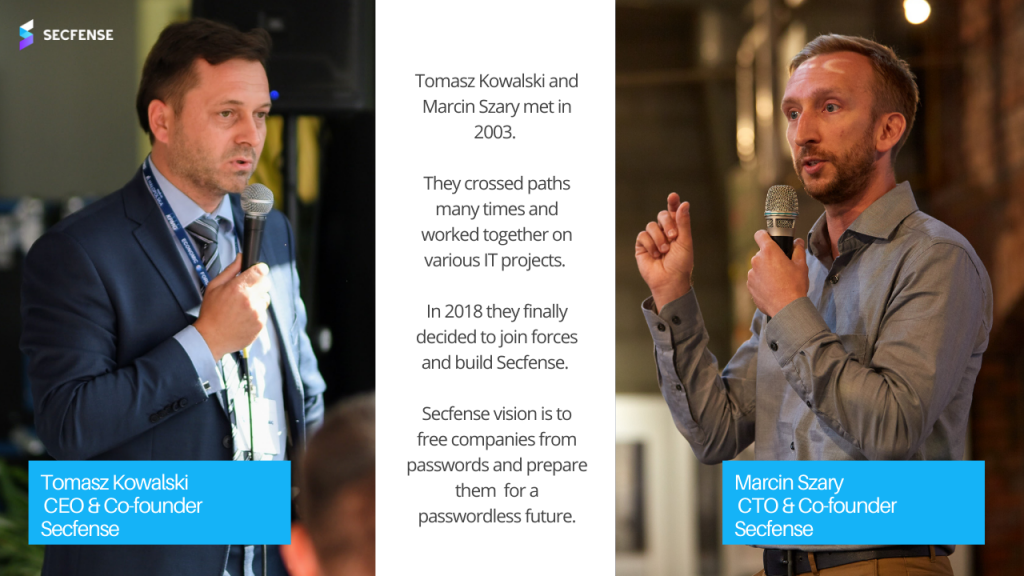 Secfense Vision
Secfense vision is the future without passwords. Today we are forced to use dozens of passwords every day. Social media, e-mail, or internet banking. At every step, we are asked to enter a password.
But passwords are a terrible security measure. They are painful to remember and difficult to keep safe. They are also downright ineffective – password databases are stolen on a daily basis, and most passwords can be cracked in just a few seconds.
The technology that Marcin and Tomasz built with the team they created enables companies to eliminate passwords and replace them with much stronger and easier methods of data protection.
5 promising startups in Krakow
Secfense's vision has been noticed by the editors of the LoveKraków.pl portal. This vision was also believed by Secfense clients, such as BNP Paribas bank or PKP Intercity, who decided to use the User Access Security Broker to secure their data. The list of 5 promising startups also includes companies such as Airly, NovaKid, NanoGames, Shape.Care. Interestingly, two out of five startups have the same investor. Bitspiration Booster VC invested in both Secfense and Airly, believing in the founders' vision when it only existed on paper.