[Kraków, Tuesday, August 8, 2023] – Secfense, a company focused on streamlining the adoption of passwordless authentication and strong authentication mechanisms, has partnered with Visium Networks, a renowned pioneer in networked camera solutions. This collaboration combines both companies' expertise and innovative technologies to deliver enhanced protection and convenience to organizations worldwide.
Visium Networks, formerly known as Australian Security Rentals, has excelled in delivering IP camera networks since 2000. As a system integrator and direct importer, Visium Networks offers top-quality solutions at competitive prices while investing in video services research and development.
Secfense revolutionizes multi-factor authentication (MFA) and passwordless authentication for organizations. Their User Access Security Broker eliminates the need for code interference, enabling seamless implementation of modern authentication methods across all applications. Secfense secures organizations with phishing-resistant MFA, ensuring comprehensive protection.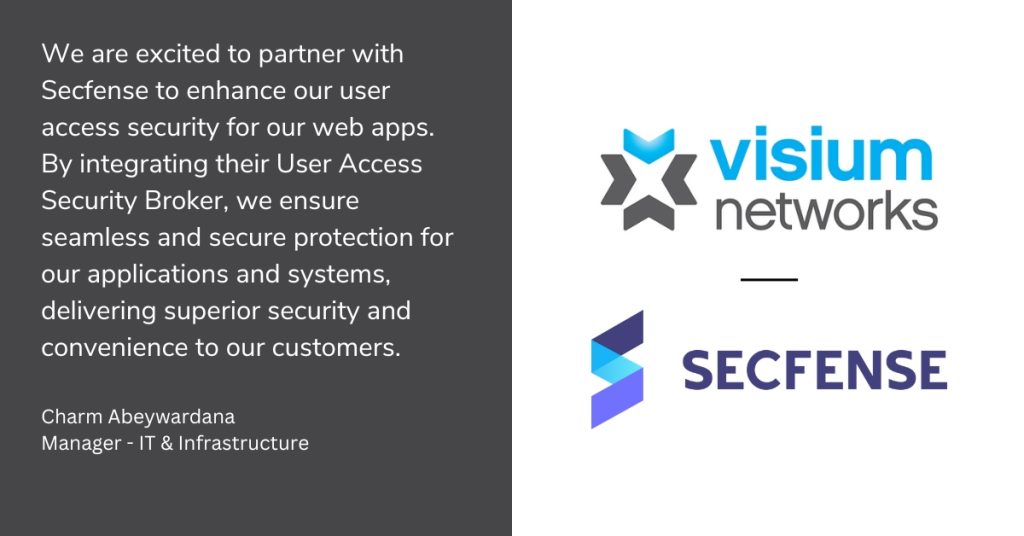 Visium Networks has chosen Secfense's User Access Security Broker to safeguard Access Control web applications and VMS systems for approximately 40 users. By implementing Secfense's solution, Visium Networks strengthens security while streamlining authentication and delivering a frictionless user experience.
"We are delighted to join forces with Visium Networks in our mission to empower organizations with seamless and secure access control," said Tomasz Kowalski, CEO & co-founder of Secfense. "This collaboration highlights the confidence placed in our innovative User Access Security Broker, enabling Visium Networks to enhance their security posture effectively."
"We are excited to partner with Secfense to enhance our user access security for our web apps. By integrating their User Access Security Broker, we ensure seamless and secure protection for our applications and systems, delivering superior security and convenience to our customers." – Charm Abeywardana, Manager – IT & Infrastructure.
With this partnership, Secfense and Visium Networks aim to bring game-changing advancements to user access security. By combining their strengths, both companies help organizations fortify defenses, prevent unauthorized access, and ensure secure user authentication across critical systems.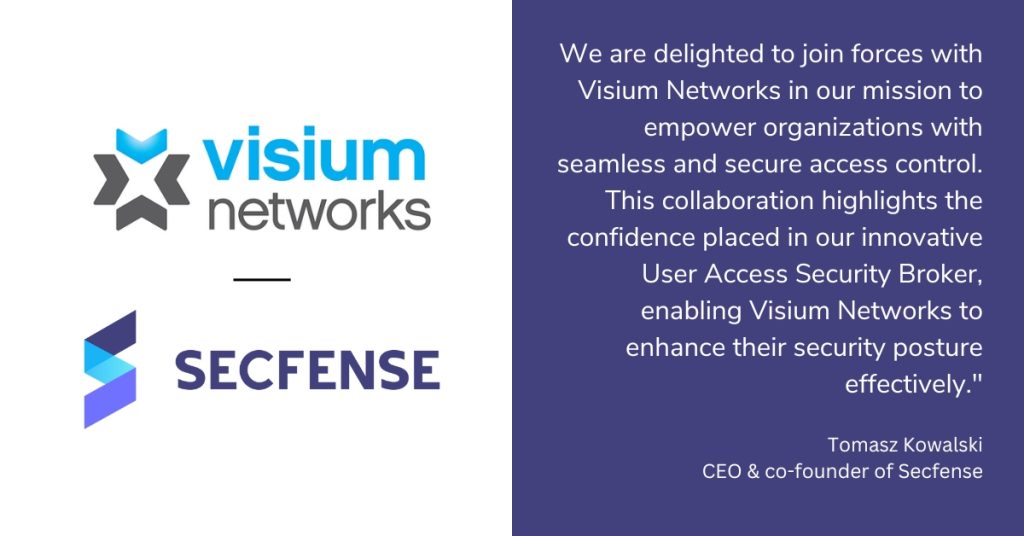 About Secfense: Secfense provides a revolutionary User Access Security Broker that enables organizations to implement MFA without developer involvement or code updates, ensuring comprehensive protection and phishing-resistant security.
About Visium Networks: Visium Networks is a leading provider of networked camera and safety solutions, offering high-quality solutions at competitive prices and driving innovation in the security and safety services sector.
For media inquiries or more information, please contact:
Secfense:
press at secfense.com
Visium Networks:
info at visium.com.au