Secfense partner of ISSA Poland association
We are proud to announce that Secfense, the company that created the User Access Security Broker, has joined the ranks of supporting members of ISSA Poland – the Information Systems Security Association. Our forces have joined together further to raise awareness in cyber security and educate the market about modern cyber threats and methods to combat them.
ISSA (Information Systems Security Association), with its rich history dating back to 1982 and branches spread worldwide, including Poland, is an ideal partner for us in pursuit of our common goals. It is an organization whose mission is to spread information security knowledge and promote industry best practices. ISSA Poland accomplishes this task by organizing meetings, workshops, and conferences within the ISSA Academy and ISSAlokal, while sharing valuable educational materials.
At Secfense, from the very beginning, we have emphasized not only the development of innovative technologies, such as the User Access Security Broker (UASB), but also the education of the market. Since 2018, we have been actively sharing our expertise in digital access security, explaining the mechanisms of multi-factor authentication (MFA), and highlighting why traditional passwords are no longer an adequate protection for an organization's data.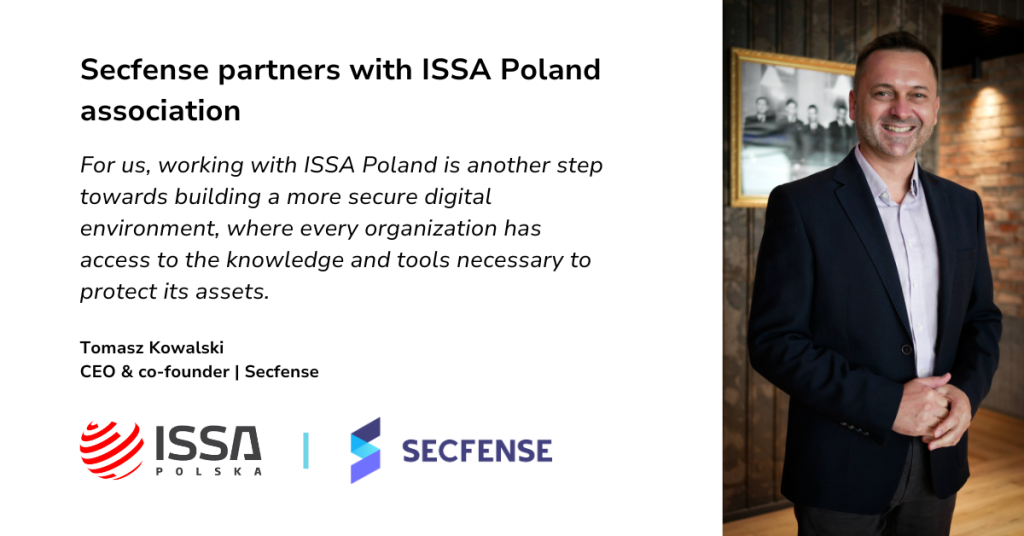 By partnering with ISSA Poland, our message will become more powerful. We are confident that with our joint efforts, we will be able to work even harder to increase information security in enterprises not only in Poland but also in the world.
Tomasz Kowalski, co-founder and CEO of Secfense, emphasizes: "For us, working with ISSA Poland is another step towards building a more secure digital environment, where every organization has access to the knowledge and tools necessary to protect its assets."
We are also active members of the FIDO Alliance, partners of the #CyberMadeInPoland cluster, and a technology partner of Yubico, further confirming our commitment to creating a secure digital ecosystem.
Stay tuned for our follow-up and join the discussion on the future of cyber security!