This is how every week should start.
You enter the office, open your email and there's news like this: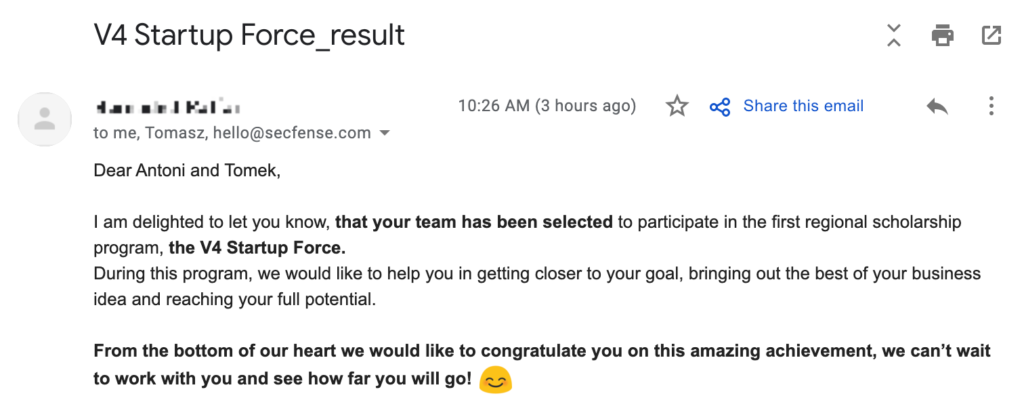 Earlier this year we decided to look for some accelerator programs where we could put Secfense User Access Security Broker in front of more people.
At our growth stage, it is critical for us to validate the market fit of our product. We show how our technology works on a number of live demo calls week by week but POC (proof of concept) is what we really need in order to grow.
Proof of concept in the software world is simply a test implementation that shows how your solution works in a limited test environment.
If the solution works great, it usually results in further sales talks and signing a deal for a product deployment and further cooperation.
Startup accelerators, and business development programs have a number of benefits starting from such as mentoring, access to a robust talent base, networking with people from the same industry.
One of the biggest values that we see in participating in programs like this is an opportunity to present, explain and then maybe test (POC) our solution on the client environment. That's why being selected to V4 Startup Force powered by Design Terminal is such a big thing for us.
As the program organizers state on their website V4 Startup Force is a program focused on selecting the best and the most promising startups from the V4 region (Czech Republic, Hungary, Poland, or Slovakia).
Only one startup from each of the V4 countries was selected by Design Terminal and its local partner organizations to participate in the program. Knowing this makes us, Secfense guys, even more proud and excited to be the part of this.
The program will include 7-day long training and mentoring program in Budapest and a later 10-day long mobility and networking tour in the V4 countries.
As a part of the program Design Terminal also gives an opportunity for startups to take part in a tailored workshop and mentoring session with local experts and business leaders in Czech Republic, Hungary, Poland, or Slovakia.
During the mobility and networking tour, each startup will have three or more business meetings (so twelve in total) in each of the V4 countries, organized locally by Design Terminal and its local partners.
V4 Startup Force connects the corporations and startups of the Visegrad region
What makes V4 Startup Force program especially appealing to Secfense is that it connects corporations and startups – so exactly the thing that we are looking for right now.
We mentioned it many times before but The Heart Tech – Corporate Center for Digital Ventures is with no doubt the best program that we have participated in this year. Finovate, DMEA, CyberTechEurope… it all was good, we were able to show our solution to a bigger audience and participate in some interesting meetings. But the quality and preciseness of the questions we received during The Heart Tech and then the meetings that followed – it's really hard to overestimate this.
With V4 Startup Force we are hoping to achieve the same thing… and then multiply it by 4.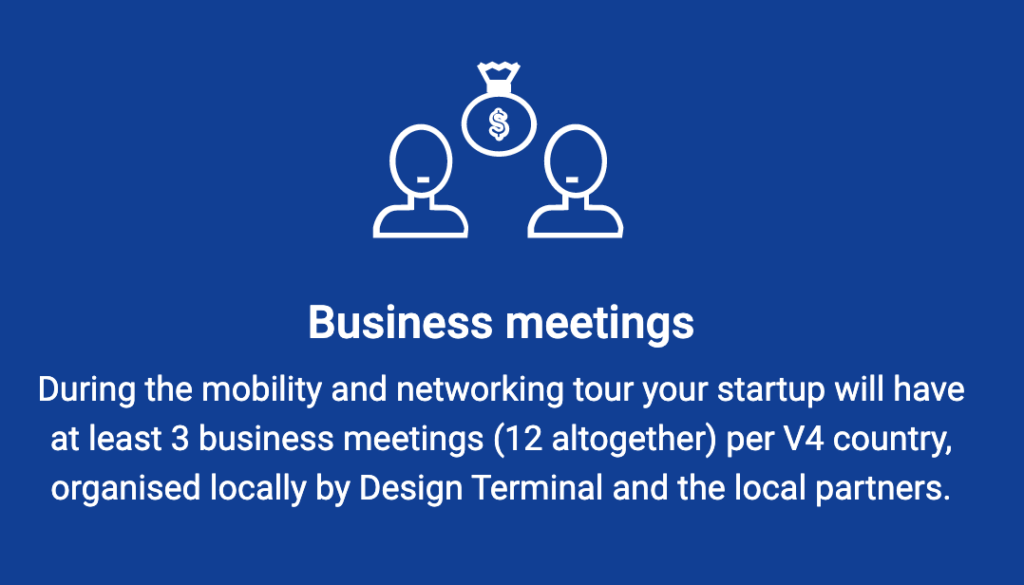 During the acceleration program, Secfense will meet with twelve companies from Czech Republic, Hungary, Poland, and Slovakia.
Each of these meetings will be perfectly matched. No random meetings. Startups are supposed to pitch their product, corporations are supposed to evaluate if the pitch makes sense and if the idea behind the product is reasonable and if the team is able to deliver what they promise to achieve.
We simply can't wait to see what the program will bring. The whole thing starts on the 3rd of November and the final is scheduled for the 20th of the same month.
So in December, you can expect the next post with some follow-up and hopefully lots of new use cases for Secfense to work on.