According to the SEOTribunal study, an average internet user reaches for the Google search engine once a day to get help while making decisions related to work. We decided to check what cybersecurity specialists type into the search engine when they look for information about identity management and authentication security. Below are the results of our study:
Okta vs Auth0 vs Secfense
One of the most frequently entered terms when it comes to comparing identity-related companies is 'Okta vs Auth0'. It appears in over 500 searches each month. This is an impressive result for such niche terms. So what is Okta and what is Auth0? Why do people confront these terms with each other and how does Secfense fit into the puzzle?
Okta vs Auth0
The main difference between Okta and Auth0 is the type of organization the service is aimed at. Okta brings benefits to organizations with a heterogeneous technology stack – companies with legacy applications built and maintained across a variety of technologies. Okta is definitely a service that large organizations reach out for more often, while Auth0 is a service often picked by smaller companies.
Auth0 vs Okta
Auth0 is a solution for companies that build their own applications and which have access to the source code, and thus – can outsource the authentication process outside. Auth0 is most often used by smaller companies, programmers, and startups, but also large organizations that build applications for themselves or their clients. Okta, on the other hand, is used more often by large organizations.
Secfense vs Auth0
Secfense positions itself somewhere in between Okta and Auth0. It is a service that, like Auth0, brings relief to software development teams, but goes one step further. While Auth0 helps programmers "sew" an element of the code responsible for authentication, Secfense does not require any software development at all, because strong authentication from Secfense is added 'on the fly' without interfering with the code of the protected application.
Secfense vs Okta
In terms of customer profile, the Secfense broker reaches the same target group as Okta, i.e. large companies with heterogeneous infrastructure. The benefit of implementing the Secfense broker is scale. Secfense can protect one as well as thousands of applications in the same way. The integration process is automated and application-independent. Therefore, large, heterogeneous institutions can secure all applications, regardless of the technology they are built with.
The company according to technology used
The company according to technology used

| | | | | |
| --- | --- | --- | --- | --- |
| | Mostly legacy apps | Mostly SaaS | Modern infrastructure developed independently by the client | Heterogeneous infrastructure (SaaS, legacy, web, mobile) |
| Auth0 | | | | |
| Okta | | | | |
| Secfense | | | | |
What is a Secfense Broker?
Secfense user access security broker is a technology that implements multi-factor authentication (MFA) on any number of applications without interfering with their code.
How does the Secfense broker work?
The Secfense broker, to a great extent, is a form of a security layer that acts as a reverse proxy server that sits between an application and an external user. The Secfense broker is also an Enterprise Service Bus (ESB) for security modules like two-factor authentication (2FA). Each authentication method introduced is completely independent of the protected applications. This means that the chosen strong authentication method can be freely replaced without affecting its operation.
Benefits of using Secfense
flexibility in choosing strong authentication methods – customers can choose any authentication method available on the market and implement it in the organization;
independence of the strong authentication method from the application – authentication is added to the application without any interference with its code;
Scalability of the deployment – the entire organization can be covered by strong authentication, not just selected applications;
resource optimization – implementation does not require software development team involvement and requires minimal support from the security team.
The company according to type of activity
The company according to type of activity

| | | | |
| --- | --- | --- | --- |
| | Development companies, startups, small online service agencies | Medium-sized e-commerce companies, law firms, offices, clinics, cooperative banks, printing houses, data centers, etc. | Large organizations such as banks, insurance companies, mobile operators, the largest e-commerce companies), enterprises |
| Auth0 | | | |
| Okta | | | |
| Secfense | | | |
Who will benefit from the Secfense broker?
The biggest beneficiaries of the Secfense User Access Security Broker are large companies with extensive IT infrastructure. The larger the company, the more employees it has and the more applications it has installed, the greater the benefit of Secfense.
Who will not benefit from the Secfense broker?
Companies that control their entire infrastructure and can add strong authentication to their applications on their own. Organizations that have only a few applications of their own or purchased in the SaaS model will benefit more from an Auth0-style solution or from independently redesigning the application so it will support MFA.
The company according to technology used
The company according to technology used

| | | | | |
| --- | --- | --- | --- | --- |
| | Mostly legacy apps | Mostly SaaS apps | Modern infrastructure developed independently by the client | Heterogeneous infrastructure (SaaS, legacy, web, mobile) |
| Auth0 | | | | |
| Okta | | | | |
| Secfense | | | | |
What is Okta?
Okta is a service from the Identity-as-a-Service (IDaaS) category. Okta allows users to access all corporate software using single sign-on (SSO).
Okta can also be defined as a tool from Identity and Access Management (IAM) space. It provides the right users with adequate access to online resources. Companies such as OneLogin and PingIdentity also operate in the same area.
How does Okta work?
Okta retrieves user information from an internal database (usually Active Directory) of a given company and verifies what permissions the user who tries to log in to the company's application should have. Thanks to Okta or other solutions of this class, the verification of the identity of a new user can be carried out quickly and efficiently. Okta is based on open protocols such as SAML and OIDC, thanks to which it can exchange authentication and authorization data between the identity provider (IdP), and a service provider (SP).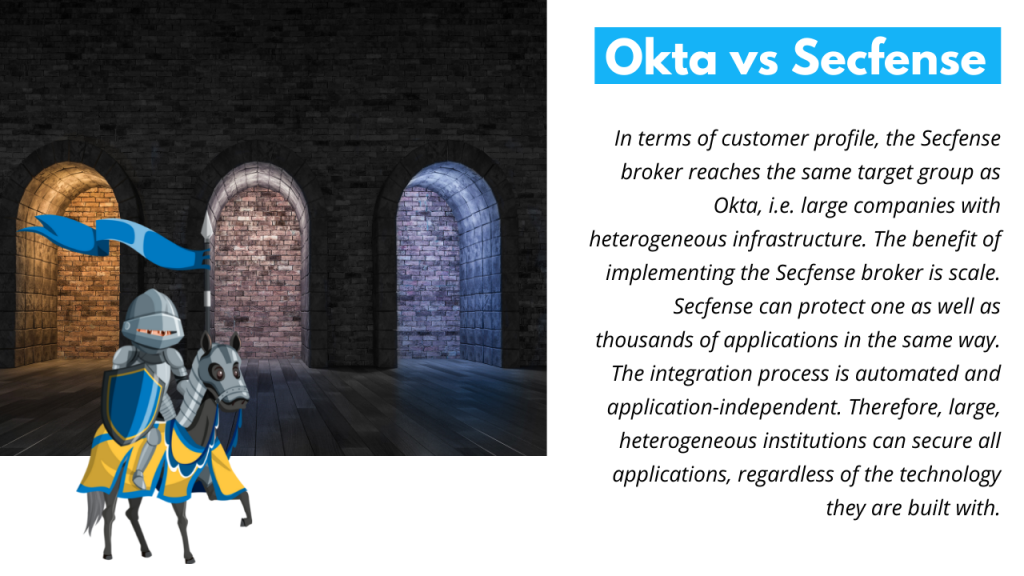 The benefits of using Okta
By building their application, an Okta client organization can 'get rid of' the local user base and connect their applications to their Active Directory or another source of knowledge about users through the SAML standard.
Services that work in a similar way are for example OneLogin, PingID or Secfense. In the case of Secfense, Active Directory and SAML integration is possible thanks to the user access security broker.
Secfense's approach to SAML integration with Active Directory differs from other companies in one important aspect. Passwords are never visible to the Secfense broker, which is an important argument for organizations where, due to internal or external regulations, passwords cannot leave the customer's infrastructure.
Who will benefit from Okta?
Hybrid identity management is the main focus of all the companies mentioned above. These providers are, in the simplest sense, a "bridge" for large heterogeneous organizations that enter the SaaS model with their IT infrastructure. Companies that have Active Directory and strong authentication in a central user base and at the same time invest in new SaaS services will benefit from IDaaS solutions. These organizations, thanks to identity management services, can easily grant or revoke an employee's access rights to many applications with just a few clicks.
Who will not benefit from Okta?
In small companies, where a small group of people are employed anually and each of new hires uses a small number of applications, giving and taking access can be done manually. The administrator simply has to 'click through' all the accounts to grant permissions to a new employee or block access of the leaving employee.
In the case of corporations, where hundreds of new employees are employed annually, and each of them uses 10-20 applications, the process of manually adding and blocking access takes hundreds of hours of tedious, repetitive, and completely inefficient work for the administrator. However, the situation changes in the case of large companies with a homogeneous infrastructure. For them, Authentication as a Service (AaaS), and a company like Auth0 may be a better idea.
Supported protocols
Supported protocols

| | | | |
| --- | --- | --- | --- |
| | Kerberos | SAML | OIDC |
| Auth0 | | | |
| Okta | | | |
| Secfense | | | |
What is Auth0?
Auth0 is a company providing an AaaS class solution. Auth0 customers can add authentication and authorization services to their applications. As a result, they eliminate the costs associated with creating your own solution for user authentication and authorization.
How does Auth0 work?
Auth0 uses the OIDC protocol and the OAuth 2.0 authorization framework to authenticate and authorize users' access to protected resources. Auth0's client application initiates an authentication request to Auth0. Auth0 then routes the request to the IdP over the configured connection. Finally, the user successfully authenticates and gets access to the application.
Benefits of using Auth0
The benefits of using services like Auth0 are simply to take the burden of coding off the development teams' backs. There are many AaaS solutions (eg AuthRocket or OneSpan) and all of them free their customers from the need to store information about the user's identity in their own databases.
The common characteristic of the Secfense broker with AaaS services is the ease of integration and thus freeing development teams from additional programming. Secfense, unlike AaaS solutions, does not require any changes in the application code because it is added "on the fly" as a virtual device between the application and the user. As a result, the entire customer infrastructure, regardless of whether they are modern applications or old legacy systems, can be effectively secured using any MFA method.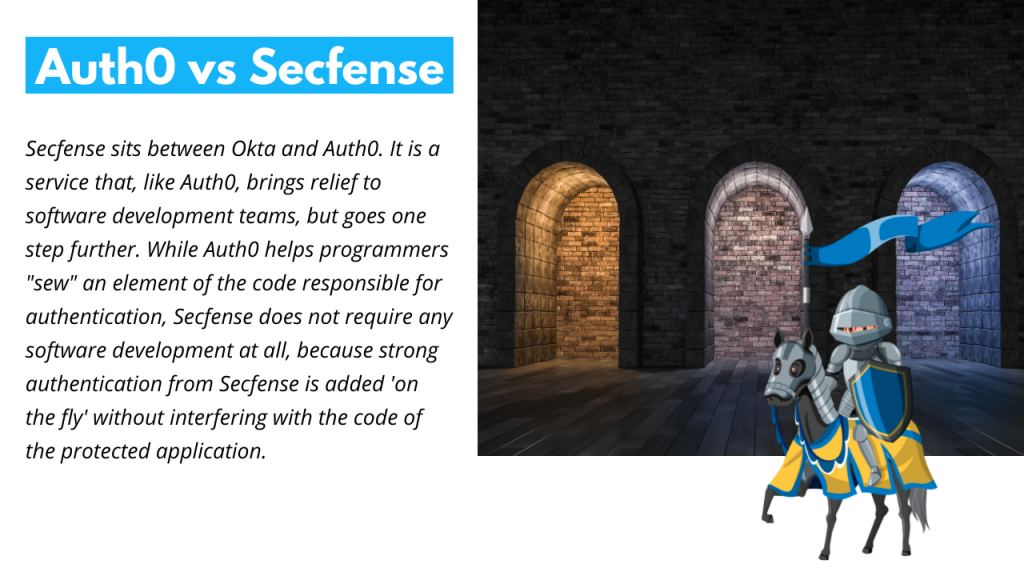 Who will benefit from Auth0?
All companies that build their own infrastructure and can easily interfere with the code of their applications will benefit from the Auth0 solution. They can easily 'sew' a piece of code to their applications and thus outsource the entire authentication and authorization process, as well as storing and securing permissions to an external company.
Who will not benefit from Auth0?
Companies that use third-party solutions, which have an extensive heterogeneous infrastructure and for whom it is difficult to interfere with the application code, will probably not reach for the Auth0 solution. Companies that already have Active Directory or other user account management tools that they are unable to opt-out of will not benefit from AaaS.
IDaaS vs AaaS vs UASB
Let's go back to the question from the beginning of this article. When comparing Okta with Auth0 and the Secfense broker, what we are really comparing is different types of services with each other. Identity Service as a Service (IDaaS) with Authentication Service as a Service (AaaS) and User Access Security Broker (UASB) service.
Who is AaaS for?
AaaS or IDaaS solutions support a very narrow but significant area of security, once an integral part of the infrastructure and today outsourced by many companies. An organization, when building its applications, can completely abandon the piece of code devoted to user authentication, password storage, and everything related to authentication, and buy this service from Auth0 instead.
Who is IDaaS
On the other hand, the IDaaS solution will be used by companies that already have hundreds or thousands of "legacy" applications, as well as those purchased in the SaaS model. The applications already have built-in authentication mechanisms, and a way to streamline work is to enable single sign-on (SSO) and secure it with multi-factor authentication (MFA).
The approach to passwords
The approach to passwords

| | | |
| --- | --- | --- |
| | Stored at the supplier | Not stored at the supplier |
| Auth0 | | |
| Okta | | |
| Secfense | | |
Who is UASB for
The UASB works great as a tool that unifies the authentication and authorization process throughout the company. Therefore it will be used by companies that want to quickly and optimally unify their access security policies globally, without interfering with the code of these applications, not involving software developers, and not overburdening the cybersecurity team.
The UASB broker also works great as a service that allows an organization to introduce passwordless authentication. It allows marginalizing the role of passwords in the first step, reinforcing them with further MFA methods, and then, in the next step, completely eliminating them.
If you liked this article also visit the following: